Chen urged to resign amid scandal
(AP)
Updated: 2006-11-05 15:16
TAIPEI -- Protesters gathered Sunday for a march in Taipei to demand the resignation of "president" Chen Shui-bian, whose wife has been indicted in a corruption scandal that prosecutors say could also involve Chen.

As the demonstrators got ready, Chen was drafting a public address that he hoped would deflate the political crisis threatening to swallow his administration.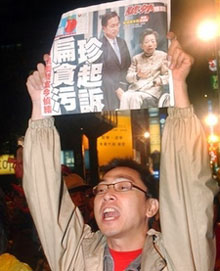 A protester holds a local newspaper with photos of Chen Shui-bian and his wife after prosecutors said they have enough evidence to indict Chen's wife on corruption charges November 3, 2006, in Taipei. [AP]


Local media said Chen would speak Sunday night, but the "presidential office" wouldn't confirm the reports.

Chen and his family have been dogged by graft allegations for months, but the scandal blew up on Friday when prosecutors indicted Chen's wife Wu Shu-chen on embezzlement, forgery and perjury charges.

Wu was accused of taking 14.8 million New Taiwan dollars (US$450,000; euro350,000) from a special diplomacy fund in 2002-06, prosecutors said.

Receipts did not account for the missing money, they said.

The prosecutors also said there was evidence Chen was involved, but as the leader of Taiwan, Chen is immune to such charges while in office.

Early Sunday, "premier" Su Tseng-chang held an emergency meeting with his cabinet to discuss the corruption scandal's possible repercussions on financial markets and social order, said government spokesman Cheng Wen-tsang.

"Taiwan is a mature democratic society, and we are not worried about keeping ... order," Cheng said.

Cheng also dismissed newspaper reports that Su would resign if Chen's public address fails to convince Taiwanese of his innocence.

On Saturday, about 6,000 anti-Chen protesters marched in Kaohsiung, the island's second-biggest city. The rally was sponsored by the main opposition Nationalist party, which planned to organize Sunday's event in Taipei.

The Kaohsiung protesters carried massive red balloons that read, "Oppose Corruption, Save Taiwan."

Opposition leaders planned to take their campaign to the legislature, where they were prepared to start the "presidential" recall process on Monday. They made a similar attempt in June and again in October, but failed to muster the required two-thirds majority.

But the opposition is hoping that ruling party lawmakers will begin defecting to their cause and give them enough votes to pass the recall measure, which would set up an island-wide referendum to determine Chen's fate.
Most Commented/Read Stories in 48 Hours