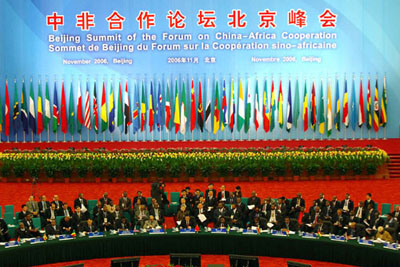 The two-session round tables of Chinese and African leaders attending the Beijing Summit of the Forum on China-Africa Cooperation (FOCAC) opens at the Great Hall of the People in Beijing, November 5, 2006. [Xinhua]


BEIJING - A number of Chinese companies on Sunday inked deals with African governments and firms worth US$1.9 billion (euro1.49 billion), Chinese state media reported.

The 16 agreements were signed at the conclusion of a conference of Chinese and African entrepreneurs, the official Xinhua News Agency said, without giving details.

The conference was held on the sidelines of a two-day forum attended by dozens of African leaders aimed at boosting ties between the two sides.
Special coverage:
Summit new peak in China-Africa relations

Related readings:
Summit to adopt action plan, declaration
China offers package of aid measures for Africa
President Hu Jintao delivers speech at China-Africa summit [Full Text]
Chinese premier hails China-Africa economic cooperation
China-Africa trade expected to top US$100 billion by 2010
Sino-African summit a historic event, Hu says
Leaders call for closer co-operation
Telecom company looks to Africa
Beijing on Saturday pledged billions of dollars (euros) in aid and loans to Africa. African leaders at the meeting said Saturday they welcomed Chinese investment and business ties.

President Hu Jintao pledged to double China's aid to Africa from its 2006 level by 2009. Hu promised US$3 billion (euro2.4 billion) in loans, US$2 billion (euro1.6 billion) in export credits and a US$5 billion (euro3.9 billion) fund to encourage Chinese investment in Africa.

"Chinese assistance to Africa is sincere, unselfish and has no strings attached," Premier Wen Jiabao said at a gathering of Chinese and African entrepreneurs held as part of the conference.

Wen also promised to ensure that projects are "open, just, fair and transparent."

The two-day event includes heads of state from 35 of the 53 African nations, and top officials from 13 others - one of the largest such gatherings in history.

China's trade with Africa soared to US$39.7 billion last year - four times its 2000 level - according to Wen. He called for efforts to boost that to US$100 billion by 2020, and promised to open China's markets wider to African exports.

China's state oil companies are expanding in Africa, signing deals in Nigeria, Angola, Sudan and elsewhere. Manufacturers are trying to expand exports to African markets.

A succession of African leaders said Saturday they want closer commercial ties with China, and hope to learn from its two-decade-old boom as they try to reduce poverty.

"Chinese companies can become key players by investing in our development processes," said President Paul Kagame of Rwanda, speaking on behalf of a group of East African governments.