BEIJING -- African and Chinese entrepreneurs felt heartened after China announced Saturday morning a package of preferential policies to boost China-Africa cooperation and mutual development.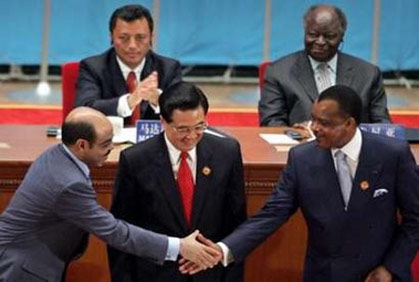 China's President Hu Jintao (C) watches Ethiopian Prime Minister Meles Zenawi (L) and President of the Republic of Congo Denis Sassou-Nguesso shake hands at the opening ceremony of the China-Africa Summit at the Great Hall of the People in Beijing, November 4, 2006. [Reuters]


With the governments' determination and increasing efforts to boost bilateral trade and investment, they are confident about future cooperation and development, said representatives from Chinese and African business circles to an entrepreneurs' conference held on the sidelines of the Beijing Summit of the Forum on China-Africa Cooperation (FOCAC).
Special coverage:
Summit new peak in China-Africa relations

Related readings:
China offers package of aid measures for Africa
President Hu Jintao delivers speech at China-Africa summit [Full Text]
Chinese premier hails China-Africa economic cooperation
China-Africa trade expected to top US$100 billion by 2010
Sino-African summit a historic event, Hu says
Leaders call for closer co-operation
Telecom company looks to Africa
A high-level dialogue and conference of Chinese and African entrepreneurs opened Saturday afternoon after Chinese President Hu Jintao announced a list of measures covering aid, trade, investment and social development for Africa at the opening ceremony of the two-day milestone summit.

The FOCAC mechanism and the entrepreneurs' conference have provided a platform for Chinese and African business circles to exchange views and tap cooperation potential to increase mutual investment, said Chairman of the China Council for the Promotion of International Trade (CCPIT) Wan Jifei.

Such a platform is conducive to the growth of trade and investment between China and Africa, Wan said.

As China's largest trade promotion organization, the CCPIT has signed cooperation agreements with 31 chambers of commerce in 20 African countries, and signed a cooperation memorandum with the African Union of Chambers of Commerce, Industry, Agriculture, and Professions (UACCIAP), according to Wan.

A joint chamber of commerce between China and African countries, initiated by the CCPIT and the UACCIAP, will be unveiled on Sunday to further facilitate cooperation between business circles of the two sides, said Wan.

The proposal to set up such a chamber was raised in the first ministerial conference of the FOCAC in 2000.

One of the largest economies in the world, China is Africa's first and the most important cooperative partner, said Mohamed El Masry, head of the UACCIAP.

Africa's cooperation with China is aimed at increasing bilateral trade and attracting Chinese investment and technology transfer to fully tap the continent's human and natural resources for better economic growth, he said.

Patrice Motsepe, president of the Business Unity of South Africa and executive chairman of African Rainbow Minerals, said that the key to Africa's development lies in the increase of Foreign Direct Investment (FDI) in the continent.

There is great potential for China-Africa cooperation, as Africa, with more than 40 percent of its population under the age of 15, means a huge market in the future, and China can also become a big importer of Africa's manufactured products, the entrepreneur said.

FDI to Africa nearly doubled from US$17 billion in 2004 to US$31 billion in 2005, according to Motsepe.

China will double its aid to Africa and provide US$3 billion of preferential loans and 2 billion U.S. dollars of buyer' s credits to the continent in the next three years, President Hu Jintao said at the opening ceremony of the summit, the largest diplomatic event in China-Africa history.

China will also set up a fund of US$5 billion to encourage Chinese companies to invest in Africa, Hu told an audience of 41 African heads of state or government, senior officials from 48 African countries and delegates from international organizations.