BEIJING - Chinese President Hu Jintao and his Congolese counterpart Denis Sassou-Nguesso hailed their political and economic relations Friday and vowed to deepen their strategic partnership.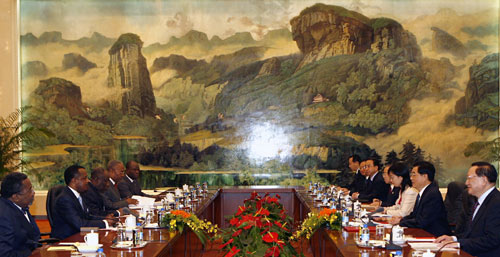 Chinese President Hu Jintao (2nd R) meets with President of Congo Denis Sassou-Nguesso (2nd L) at the Great Hall of the People in Beijing, Nov. 3, 2006. [Xinhua]


The friendly cooperation between China and the Republic of Congo has been going on smoothly since the two countries established strategic partnership more than a year ago, Hu told Sassou-Nguesso at a meeting on the eve of the Beijing Summit for the Forum on China-Africa Cooperation slated for Nov. 4-5.
"We've been exploring new ways to serve our mutual best interest and to create a win-win situation," he said. "Bilateral trade is climbing rapidly and the two countries have become sincere friends who support and trust each other in international affairs."
Hu said China is willing to make concerted efforts with the Republic of Congo to continuously deepen their strategic cooperation and benefit the two peoples.
He also praised the Republic of Congo for its efforts in promoting friendship with China while chairing the African Union (AU) for the 2006 session. "The Chinese government will enhance cooperation with the AU, too," he stressed.
Sassou-Nguesso was elected AU chairman for the 2006 session at the sixth AU summit in the Sudanese capital Khartoum in January.
During the meeting with Hu, Sassou-Nguesso spoke positively of his country's relations with China, saying the two sides are putting into practice their consensus for cooperation.
The Republic of Congo and China have mapped out plans and defined projects for cooperation, he said, adding that his country is determined to continuously deepen its strategic partnership with China.
The African leader also praised China's active role in helping the continent maintain peace and development.
At the forthcoming summit, China is expected to announce a package of major assistance, investment, trade and other key cooperation projects with Africa to deepen mutual benefit and cooperation and realize common development.
The Chinese government has put forward a series of measures including debt relief, exemption of tariff and personnel training to promote cooperation between China and Africa, said Wei Jianguo,vice commerce minister and the Chinese side secretary-general of the summit's organizing committee.
Hu Jintao hailed the upcoming summit as a great undertaking in the history of China-Africa relations that will have a significant impact on enhancing mutual understanding and trust between China and African leaders, deepening traditional friendship, bolstering pragmatic cooperation and promoting South-South cooperation.
Sassou-Nguesso arrived in the Chinese capital Thursday for the two-day summit. Altogether 48 African countries that have diplomatic relations with China will attend the gathering.
The Republic of Congo forged diplomatic relations with China on Feb. 22, 1964. Denis Sassou-Nguesso visited China in 2005, while Chinese Premier Wen Jiabao visited the Republic of Congo in 2006. Bilateral trade totaled 2.423 billion US dollars in 2005.