The writing's on the Wall: Keep it clean and quiet!
Organizing activities on sections of the Great Wall not open to tourists or carving names, digging out soil or bricks and planting trees anywhere along the Wall will be deemed illegal from December 1, according to the first set of rules to protect the Wall nationwide.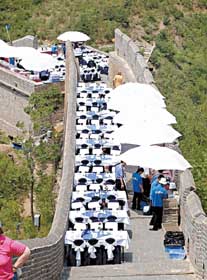 Activities that cause damage to the Great Wall, such as skateboarding, dining and erecting electricity poles as shown above, could be deemed illegal from December 1, according to a new set of national rules. [China Daily]
The regulation, which was made public on the website of the central government on Tuesday, also bans driving vehicles, building unauthorised structures or any other activities that may cause harm to the Wall.
Anyone violating the regulation faces fines of up to 50,000 yuan (US$6,250), while institutions can be fined as much as 500,000 yuan (US$62,500).
"All citizens, legal entities and organizations" have the obligation to protect the Wall and report illegal activity to local governments, the regulation says.
It is clearly spelt out that those who cause serious damages to the wall are subjected to criminal prosecution. According to the Criminal Law, anyone who deliberately destroys State- or provincial-level cultural relics can be jailed for up to 10 years.
There are currently some local rules and regulations to protect the Wall, but these are the first to be imposed nationally and with the full authority of the State Council.
"Inappropriate tourist activity has caused damage to the Great Wall and its historical features," the government's website cited a State Council official as saying.
Local media have reported that at the famous Badaling section of the Great Wall, about an hour's drive from Beijing, it is hard to find bricks that have not either been carved with someone's name or covered with graffiti.
Last year, some partygoers left a section of the Great Wall in a mess after an all-night rave party, sparking a public uproar.
The Wall has also witnessed a growing number of commercial events such as shows and night musical concerts.
In rural areas, some villagers have even stolen bricks from the Wall to build pigsties and henhouses, according to China's Great Wall Society, a non-governmental organization that champions restoration of the Wall. Weathering, erosion and thick dust are also threats.
Dong Yaohui, the society's secretary-general, who completed a 35-day inspection tour of the whole Great Wall in June, said only about 20 per cent of the 6,300-kilometre wall is in reasonable shape, another 30 per cent is in ruins, and the rest has disappeared.
He described the new regulation as a "milestone" in the protection of the Great Wall, and a "success" for people who have been making great efforts to protect the Wall.
"It makes clear for the first time that the Great Wall has to be protected as a whole instead of in sections," he said.
Dong said he is glad that the new regulation spells out that whole sections of the Wall should be preserved as provincial-level relics or above. "The value of the Wall lies in its unique size and complexity, not in a few towers," he said.
Also encouraging is that the regulation prescribes that local government leaders be dismissed if any serious damage occurs to the Wall in their regions, according to Dong.
All the 20 people who left comments on Sina.com, one of China's biggest news portals, supported the regulation. A netizen, who did not leave a name, said such a regulation should have been issued earlier and with more details. "The Great Wall is our nation's symbol," the comment said. "It is the obligation of every Chinese to protect it."
But Mike McGovern, an American golf pro who has lived in Beijing for a year, said: "I think there should be certain designated areas where people are allowed to hold parties and celebrations. Why can't people go visit the Wall and have a nice, enjoyable night out?"