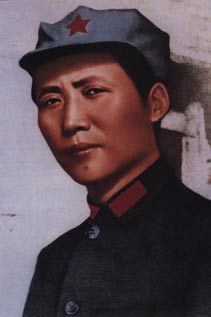 This was a shot that Snow was most proud of and which had become well known to most Chinese people. [China Daily]

A senior at Yenching University in Beijing (then Beiping) in 1936, I was preparing for the mid-June final exams when the American journalist Edgar Snow revealed to me his secret plans to head for northern Shaanxi.

He had just been granted permission by the Central Committee of the Communist Party of China (CPC) to visit the revolutionary base. Snow and I became close friends because of his hearty support for the Beiping student movement in December, which called on the nation to rise in resistance against Japanese invasion.

He asked me if I was willing to be his interpreter, because his Chinese was not good enough to carry out his reporting task.

What an opportune offer! We progressive students had closely followed the news of the Red Army, and the thought of going to northern Shaanxi to join the Red Army had run through my mind.

I accepted Snow's invitation as the opportunity of a lifetime without a moment's hesitation.

Snow and I worked out a simple plan for our journey. He was to head for Xi'an by himself. After he had secured permission for himself, and me as his interpreter, to get into Yenan (now spelled Yan'an), he would use a code to inform his wife Helen Snow in Beiping by wire.

I could then rendezvous with him at a local hotel.

Soon after Snow left Beiping by train, I took one of the final exams and even had a photo taken dressed up in robe and cap. I also asked the university secretary to write a formal letter of introduction to General Chang Hsueh-liang (1901-2001) certifying that I was a Yenching University graduate travelling to Northwest China to survey the banking situation there and was looking for assistance from the proper authorities.

A few days after Snow left, Helen notified me she had received a cable from her husband that I could take off as planned. I slipped out of the campus with a small leather suitcase. I left everything in my dorm intact and informed no one, classmate or relative, of my departure.

I arrived in Xi'an and checked in at a small hotel.

While browsing at a local bookstore, I chanced upon the latest edition of a progressive journal. It carried an article by the famous writer Lu Xun (1891-1936) entitled "My Reply to a Letter from the Trotskyites."

Dated June 9, 1936, the article praised Mao Zedong's proposal that "the different parties join forces to resist Japanese aggression."

I looked for Snow as previously arranged. He was staying at the Xijing (West Capital) Inn, the only modern and top-class hotel in town then. When I entered his room, I met another Westerner. Snow introduced him as George Hatem, an American physician.

Like Snow, Hatem had been recommended by Madam Soong Ching Ling to visit northern Shaanxi. Hatem was to devote his entire life to the development of public health in the Soviet region and later in New China. We became close friends too.

Snow and Hatem left for Yenan on a military truck, accompanied by a colonel of the Northeast Army and a CPC liaison officer in the Northeast Army.

I stayed behind to wait for the next underground liaison man to take me to northern Shaanxi.

The political situation in Xi'an and all of Shaanxi was quite complicated. There were the Northeast Army led by General Chang Hsueh-liang and the Northwest Army led by General Yang Hucheng.

By the time we arrived in Xi'an, Chang and Yang already recognized that the CPC and Red Army had put forward a reasonable proposal for resisting Japanese aggression and that the CPC was sincere, open and above-board.

There were CPC liaison men working at Yang's headquarters. They partly facilitated travels between Xi'an and Bao'an, where the headquarters of the Red Army was located.

But there were also the secret agents of the Kuomintang's Central Army and its special forces for the "extermination of the Communist bandits."

I was staying on the hotel's second floor. One day, two thugs who claimed to be from the Kuomintang's provincial department came upstairs and wanted to force their way into my room.

I blocked the door and chit-chatted with them. I mentioned a classmate of mine being the daughter of a high-ranking Kuomintang general and my mission to survey the local banking sector. They were impressed and I was able to send them away along with two other plainclothes men downstairs.

Three days later, I set off with three others, riding in a military truck. We were all dressed in uniforms that resembled those of the colonel of the Northeast Army who accompanied us.

The distance from Xi'an to Yenan was about 300 kilometres, so the trip took us more than two days by truck. We finally reached the area guarded by the Red Army after passing through various check-points and later walking in darkness and hunger for 20 kilometres.

How happy we were! Now at last we could breathe freely and talk unhindered.

On July 21, I was elated to see Zhou Enlai, for whom I had long cherished respect. He was then vice-chairman of the Military Commission of the CPC's Central Committee.

Brandishing a thick beard and dressed in a grey army uniform, he extended his hand to welcome us with a smile.