The world-record US$19.1 billion public offer by Industrial and Commercial Bank of China (ICBC) was met with great enthusiasm by domestic and overseas investors yesterday.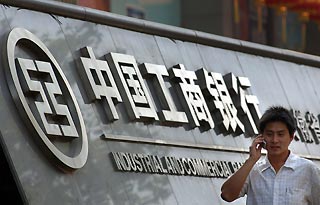 A man walks past a logo of the Industrial & Commercial Bank of China (ICBC) in front of its local branch in Hefei, east China's Anhui province October 16, 2006. [Reuters]

The bank, the largest by assets in China, began accepting subscriptions from institutional investors for shares to be listed in Shanghai and simultaneously launched an H-share public offering in Hong Kong.

The initial public offering (IPO) represents about 15 per cent of the bank's enlarged share capital.

Institutional investors in Hong Kong began applying for the stock a week ago and, according to two people who were involved in the sale and did not want to be identified, underwriters have already received orders for US$175 billion, or more than 13 times the amount available to them.

ICBC is offering 1.77 billion shares, or 5 per cent of the total offering, to Hong Kong retail investors. They have until midday on Thursday to place their orders.

The bank makes its trading debut simultaneously in Hong Kong and Shanghai on October 27.

The dual IPO, China's first, is expected to be the world's largest, exceeding the 1998 stock sale by Japanese mobile phone company NTT DoCoMo, which raised US$18.4 billion, according to market data provider Dealogic.

Around 138 domestic institutional investors, as many as 90 per cent of those who participated in the bank's earlier price inquiry process, have made offers to buy the bank's A shares.

"The active subscription of the bank's shares might finally lead its price to be fixed as high as 3 yuan (38 US cents) per share," said Zhao Jianxing, an analyst with Shenzhen-based China Merchants Securities. "And on the first trading day it is likely to open at 3.4 or 3.5 yuan (44 US cents) per share," he added.

The bank set its A-share price yesterday at between 2.6 yuan (33 US cents) and 3.12 yuan (39 US cents) 1.95 times and 2.23 times its 2006 book value, bankers involved in the sale said.

ICBC is offering 35.4 billion shares at between HK2.56 and HK$3.07 apiece in its global offering.

The bank is scheduled to fix the final prices on October 23.

Thousands of Hong Kong residents lined up outside banks yesterday to apply for the shares. Analysts estimated that retail investors in Hong Kong might pump in a combined capital of HK$300 billion during the subscription.

"Overseas investors think highly of ICBC shares because the lender has the biggest customer network among Chinese banks," said Daniel Zeng, chief investment officer with First State Cinda Fund Management, adding that investors are betting on China's sizzling economic growth.

Bank of China, the country's second-biggest lender which raised about US$11.2 billion for its IPO in May, attracted around US$121 billion in demand from institutional investors; and individual investors in Hong Kong ordered about US$38 billion.

Shares in China Construction Bank, the country's third-largest lender, have risen 54 per cent since its US$9.2 billion global share sale last year.