BEIJING -- China's efforts to curb runaway expansion in some industries are starting to pay off, but fixed-asset investment growth remains too rapid, the country' top economic planning official said in remarks published on Monday.
Ma Kai, head of the National Development and Reform Commission, said curbing the launch of new investment projects remained the main focus of the broad array of macro-control measures that Beijing was deploying.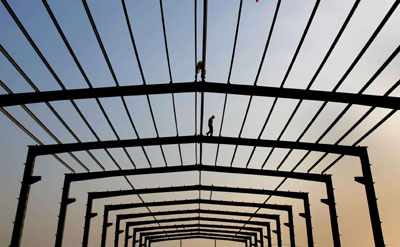 A labourer walks on a steel frame at a construction site in Nanjing, east China's Jiangsu province October 15, 2006. [Reuters]


In a speech made on Friday and posted on the agency's Web site, Ma said the economy was in good shape but the country faced some striking problems: fixed-asset investment and credit were still expanding too fast, while the trade surplus was too large.

"The government has taken a series of timely macro-economic measures and these measures have initially helped contain the momentum of blind expansion in some industries, but the problem of overcapacity has yet to be fundamentally resolved," the top economic planner Ma said.

Excess capacity in sectors such as steel, alumina, coking and autos showed no let-up, while risks remained for overinvestment in other industries including coal, power and textiles, he said.

Fearful that overcapacity could wipe out profits and deluge banks with new bad loans, the government has taken a raft of measures to cool some fast-growing sectors.

Investment growth slowed in August, but Ma said the authorities needed to keep tight controls on bank credit and land supply while implementing tougher environmental and safety standards.

"The top priority of macro-economic policy is to strictly control the launch of new projects," Ma said.

Toward that end, the central government has dispatched six inspection teams to the provinces to spearhead a drive launched in early August to scrutinize new projects, he said.

Half of all new coking industry investments flouted government rules, Ma said. The figure for coal was 42 percent, for cement 35 percent, for electricity and steel 26 percent and for textiles 22 percent, he added.

Echoing Ma's comments, Cheng Siwei, a top legislator, was quoted by the official Xinhua news agency as saying that overly rapid investment and credit growth and the swelling trade surplus were the biggest concerns for China's economy.

The underlying source of those imbalances was the country's overly high savings rate, which pushed interest rates down and fueled capital spending, said Cheng, who is vice-chairman of the standing committee of the National People's Congress.

That, in turn, was largely the result of the social security system being relatively underdeveloped, he was quoted as saying.