China's monthly trade surplus was narrowed to US$15.3 billion in September from the record high of US$18.8 billion in August.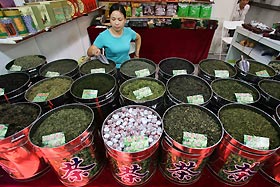 A shop vendor waits for customers at her tea counter in Shanghai October 12, 2006. [Reuters]

But the surplus in September is still the second largest in the first three quarters, the General Administration of Customs said yesterday in releasing the statistics.

It brought the country's trade surplus to US$109.9 billion in the first nine months, exceeding the US$101.9 billion for all of 2005.

Exports totalled US$91.64 billion in September, up 30.6 per cent from the same month a year earlier, and imports rose 22 per cent year on year to US$76.34 billion.

Economists had forecast about 28 per cent rise for exports and 20 per cent rise for imports.

According to the country's 11th Five-Year Plan (2006-10) for commerce development, which was released recently, China will strive to achieve a balance between exports and imports.

In a bid to keep trade balanced, the Chinese Government should encourage more imports instead of merely dampening exports, suggested Shen Danyang, a researcher with the Chinese Academy of International Trade and Economic Co-operation, a think tank under the Ministry of Commerce.

He said a decline in the growth rate of exports would result in a slowdown of GDP growth and loss of thousands of jobs.

"Increases in imports promote economic growth and create jobs and tax income although they might exert pressure on some industries or sectors," Shen said.

China's growing trade surplus has been a sore point in its relations with its major trade partners, especially the United States, and has added pressure on the country to allow the value of the renminbi to rise.

Import increase is expected to help reduce pressure on the renminbi to appreciate, Shen said.

A Ministry of Commerce official, who declined to be identified, said that "growth in processing trade, which now accounts for about half of the exports, is expected to slow down in the next five years."

The country has done US$1.27 trillion in foreign trade from January to September, reflecting a year-on-year increase of 24.3 per cent.

The average annual growth rate of foreign trade from 2001 to 2005 was 24 per cent. Foreign trade is targeted to grow at around 10 per cent year-on-year in the next five years with total imports and exports hitting US$2.3 trillion in 2010.

The European Union remained the largest trade partner of China, with a bilateral trade volume of US$194.4 billion in the first three quarters, according to the customs administration. Then come the United States, Japan and the Association of South East Asian Nations.

Coastal regions, such as Guangdong and Jiangsu provinces and Shanghai, topped other regions in foreign trade.