Two moons shone in the night sky over the Lugou Bridge, also known as the Marco Polo Bridge, in Beijing for a special celebration of the Chinese traditional Mid-Autumn Festival on Friday.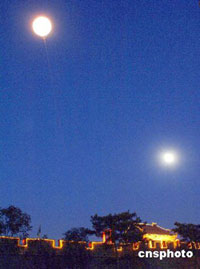 Two "moons" shine in the sky over Marco Polo Bridge in southwest Beijing, on Thursday evening. One of them is an artificial moon, designed to relive a famous ancient scene called "Morning Moon over Marco Polo Bridge". [cnsphoto]
One of the moons was artificial, made of two 500-watt bulbs placed into a white balloon 3 metres in diameter. An electrical cord to the balloon provided the power.
It is said that producing such a moon was needed to recreate one of the eight famous traditional scenes in the capital a bright moon hanging over the Lugou Bridge.
The effort, however, was not popular with everyone. "It was unnecessary to waste money and power on the artificial moon," a bulletin board poster said on sina.com. "The natural moon was bright and beautiful enough for us to enjoy."
Friday night marked the start of the Chinese Mid-Autumn Festival, or Moon Festival, which traditionally falls on the 15th day of the eighth month of its lunar calendar. The holiday is a time for family reunions and mooncakes.
A big difference this year is that the festival is listed among the first batch of China's intangible cultural heritage, together with other Chinese traditional festivals such as Spring Festival and Dragon Boat Festival.
However, some cultural experts are worried that the significance of the festival is overwhelmed by the commercial atmosphere. "Contrasting with bigger and bigger mooncakes, people care about the traditional meaning of the festival less and less," said Qi Qingfu, a professor at the Central University for Nationalities in Beijing.
"Mid-Autumn Festival was established for the ceremony honouring our ancestors," said Wu Bing'an, honorary chairman of the China Folklore Society.
Now it has become nothing more than a commercial opportunity for the mooncake industry, Wu said. Wu suggested that civil societies take the lead in carrying on the celebration with the support of the government and enterprises. When the significant festivals come, the government should play a role in organizing the activities.
Another difference this year was that Moon Festival coincided with the week-long National Holiday, which is rare. It provided people with time to go back to their hometowns for family reunion, but it also put heavy pressure on the country's traffic and public transport systems.
The Ministry of Communications estimated that 49 million would travel by rail during the holiday, an increase of 3.2 per cent over the same period last year.
Traffic authorities on Thursday warned drivers to be more cautious as hordes of travellers began to head home. Beijing especially saw a surge in traffic volume. The return of residents who had gone for brief trips to the Beijing suburbs was the chief reason for the increase, the municipality's traffic management department said.