While many Chinese catch up on their favorite movies during the weeklong National Day vacation, a woman in south China's Jiangxi Province is waiting for a local court to respond to her request to sue a movie star.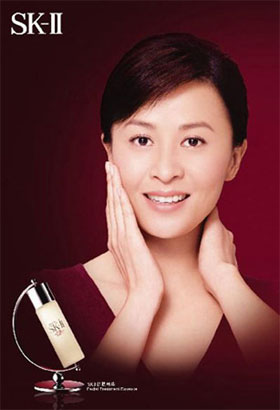 Carina Lau, a well-known Hong Kong star, appeared in advertising for Japanese cosmetics brand SK-II owned by Procter & Gamble. [163.net]
"She should pay for cheating customers with false advertising," said furious 43-year-old Lu Ping. She filed a lawsuit against Carina Lau, a Hong Kong star, who appeared in advertising for Japanese cosmetics brand SK-II owned by Procter & Gamble.
Lu saw the advertisement in a fashion magazine in January last year, in which Carina claimed that using the product for four weeks could help "reduce wrinkles by 47 percent and make you appear 12 years younger". Because she is about the same age as the actress, Lu decided to try out the product.
She bought a bottle of skin-tightening, anti-wrinkle facial milk. But 28 days later, her skin had not become silky. Instead, her face became itchy and she felt a burning sensation.
Last month, China's General Administration of Quality Supervision, Inspection and Quarantine found chromium and neodymium in nine SK-II products, including the one Lu used. The toxic heavy metals can cause dermatitis and skin rashes. Neodymium also causes harm to eyes, lungs and liver. They are banned for use in cosmetics in China.
SK-II products were taken off the shelves in China last September and the company was fined 200,000 yuan (25,000 U.S. dollars) for false advertising. But Lu believes that Carina Lau is also culpable. "I wouldn't have bought it (the product) if she hadn't advertised it," she said.
To fuel Lu's anger, Carina told the public after "SK-II Gate" that "there is nothing wrong with the brand" and she would "support SK-II as always."
"Celebrities influence consumers, especially when they are idolized and trusted," said Qiu Baochang, director of the committee for protecting consumers' rights under the Beijing Bar Association. Misleading consumers with false advertisements, Qiu said, is potentially very harmful.
Carina Lau is not the only celebrity to be involved in questionable advertising. An actor who had appeared on screen as Chairman Mao promoted a hospital to cure sterility, and an actress vaunted the merits of a medicine with her son. The advertisements were cancelled, but neither actor was punished.
Regulations and laws do not specify the responsibility of celebrities in cases of false advertising.
Lu Ping's attorney Tang Wei believes that if a movie star promotes a product without paying attention to product quality, the advertisements will - at the very least - damage his or her reputation. "Besides," Tang said, "false advertisements are equivalent to fraud, and those who profit from fraud are guilty." He is confident about the lawsuit.
In an online survey conducted by the China Consumers' Association, over 78 percent of netizens said that celebrities should share legal responsibility if product advertisements turn out to be false or misleading.
Medical and food advertisements with celebrities acting as patients, consumers and experts were banned this August by the State Administration of Industry and Commerce, while Qiu called on lawmakers to specify celebrities' legal duties in advertising.
He proposed that celebrities sign a contract with advertising agencies to ensure product quality. By doing so, they could not only protect their own reputation, but force producers to be more careful.
Qiu urged consumers to be sensible and cautious and not to follow advertisements blindly.
Lu Ping, anxious that her case will be dealt with soon, said that celebrities should know something about the products they promote. "I guess actresses can't pay for labs to check the safety of cosmetics, but at least they can stop promoting them when the products are shown to have quality problems."