Shinzo Abe next week goes to China and South Korea in his first overseas trip as Japan's prime minister in an effort to repair frayed ties and seek common ground on halting North Korea's nuclear weapons program.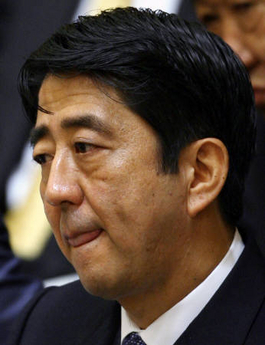 Japan's Prime Minister Shinzo Abe attends the Lower House Budget Committee in Tokyo October 6, 2006. Abe will visit China on October 8 and South Korea the next day for summits to repair ties frayed by feuds over their wartime past. [Reuters]
Japan's two biggest Asian trading partners were angered by Abe's predecessor, Junichiro Koizumi, who made visits to Yasukuni Shrine, where 14 Japanese convicted of war crimes are memorialized. China and South Korea refused to hold summits with Koizumi, complicating negotiations with North Korea, which three days ago said it will test a nuclear bomb.
Abe has refused to say whether he will visit Yasukuni, and during his campaign to succeed Koizumi cast doubt on a 1995 apology by former Prime Minister Tomiichi Murayama for Japan's Asian aggression in the first half of last century. This week he re-affirmed the validity of Murayama's statement, signaling he may issue an apology on his trip to help mend diplomatic fences.
Japan "has reached a point where we can't be complacent about the impact of diplomatic ties on economic relations," said Noriko Hama, an economics professor at Doshisha University in Kyoto. "If China, and to a lesser extent Korea, allow Abe to get away with his Yasukuni stance it will mean they are willing to look toward the future. He must navigate a tightrope.''
Abe starts his two-day visit on Oct. 8 in Beijing by holding talks with President Hu Jintao in the first state visit by a Japanese leader since Koizumi went five years ago. The next day Abe travels to Seoul to meet President Roh Moo-Hyun.
Yasukuni
South Korean Foreign Minister Ban Ki Moon in a Sept. 30 interview urged Abe not to visit Yasukuni, and the Nihon Keizai newspaper on Sept. 26 said China made the same request during diplomatic talks in Tokyo. The newspaper didn't say where it got the information.
Chief Cabinet Secretary Yasuhisa Shiozaki said on Sept. 27 that Abe will make a decision on going to the shrine based on "personal beliefs."
Yasukuni's museum says Japan's invasion of Asia 60 years ago was to liberate the region from Western colonial rule and that it was forced into war with the U.S. Koizumi went to the shrine annually during his five-year term.
Koizumi's precedent makes it almost impossible for Abe to yield to Chinese and South Korean requests to not visit the shrine, said Koichi Nakano, a political science professor at Sophia University in Tokyo. In meeting with Abe after snubbing Koizumi, China may have agreed to downplay the issue, Nakano said.