China still faces serious shortcomings in its bird flu prevention preparations, and government departments must do better ahead of the autumn season, Yin Chengjie, vice- minister of agriculture, said yesterday.

"At present, the bird flu virus situation in our country is generally stable, but as we go into the peak outbreak season in the autumn, the prevention situation is still serious," Yin told a national meeting on bird flu prevention.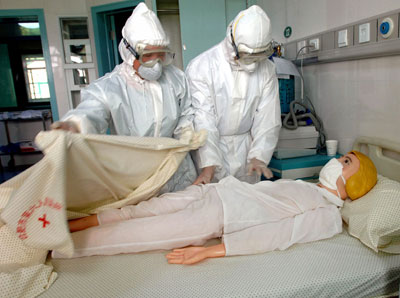 Nurses wearing protective clothes take care of a mock patient, a doll, during a bird flu drill at a hospital in Hefei, east China's Anhui province, August 17, 2006. [Reuters]


"There still exist weak links in our bird flu fight work," he was quoted as saying in a statement posted on the Ministry of Agriculture's website (www.agri.gov.cn).

China announced this week two poultry outbreaks leading to the culling of thousands of birds, in the first reported cases since early August.

One outbreak killed more than 1,000 domestic poultry in a village near Yinchuan, capital of the Ningxia Hui Autonomous Region. A national laboratory test confirmed on Tuesday that the dead birds were infected with the H5N1 strain of bird flu virus.

After the outbreak, 72,930 domestic poultry were slaughtered, according to the ministry.

It was the second case of bird flu outbreak in the past 10 days following another in North China's Inner Mongolia Autonomous Region on September 27, which killed 985 chickens.

Some provinces were preparing too slowly and did not have enough staff, vaccines or funds. The problem was especially acute in villages, Yin said, without naming specific parts of the country.

It was important to step up measures ahead of the autumn, when migrating birds which have been blamed for outbreaks in the past would pass through China again, he said.

"We must soberly recognize the seriousness of the current fight against bird flu and not underestimate the seriousness of the work," Yin told the meeting, which was attended by China's top veterinarian, Jia Youling.

Yin said the provinces must ready their emergency response systems and ensure there were enough good quality vaccines.

He said his ministry would dispatch teams to the countryside to ensure measures being taken were up to scratch.

"We cannot lower our guard," he said.

Scientists fear the bird flu virus could mutate into a form that could pass easily from person to person, sparking a global pandemic.

Yet many ordinary people are not yet aware of the severe situation.

The Xinhua news agency reported on a survey by the Chinese Health Education Association that said only 8 per cent of respondents viewed flu of any kind as being a "serious infectious disease."

Almost a quarter of those polled had no idea bird flu outbreaks had to be reported to government authorities.

To improve the situation, a public education programme jointly initiated by the Ministry of Health and UNICEF has been launched in rural areas. It will be carried out in 1,344 towns of 16 provinces and regions.

High-risk groups including children, poultry-breeding farmers, vendors, poultry processors and village officials will be the main targets of the education.