Around 300,000 more people than planned will be relocated to make way for the Three Gorges Dam project, a leading official of the project has said.
China had expected to resettle 1.13 million people but that figure has already been surpassed, well before the project goes into full operation in 2008, Xinhua News agency reported yesterday.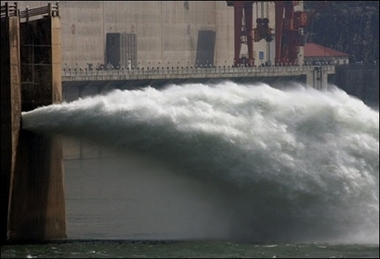 Water pours from a valve in the Three Gorges Dam project in Yichang. China has announced it will relocate around 300,000 more people than planned to make way for the Three Gorges Dam, bringing the total number to over 1.4 million.[AFP]
The number of people to be resettled is expected to top 1.4 million, Xinhua cited the head of Three Gorges Project Construction Committee, Pu Haiqing, as saying.
The government decided to increase the number of people to be moved to reduce the impact on the ecosystem, Pu said.
He added that currently more than 1.2 million people, or over 85 per cent of the updated plan, have been resettled,
Launched in 1993 and being built with an estimated investment of 180 billion yuan (US$22.5 billion), the Three Gorges Project on the middle reaches of the Yangtze River will be installed with 26 generators with the combined generating capacity amounting to 18.2 million kilowatts.
It will be able to generate 84.7 billion kilowatt hours of electricity annually when in full operation.
The dam's main 2,309-metre-long, 185-metre-high block of concrete was put into place in May this year, marking the end of 13 years of construction.
It will become fully operational in 2008, with more power generators to be installed and work done on the ship lift that will allow ocean-going vessels to go far inland along the vast reservoir filling up behind the dam.
The water level in the reservoir has yet to reach its peak of 175 metres. That explains more people needing to be relocated as the water level rises, Pu was quoted as saying.
The dam is expected to be an essential source of hydropower and to stop flooding along the Yangtze River, China's longest, that has killed countless people and destroyed farming fields for centuries.