Abe to visit Beijing, meet Hu, Wen on Oct. 8: Report
(KYODO)
Updated: 2006-10-02 08:26
Japanese Prime Minister Shinzo Abe plans to visit Beijing on Oct. 8 and meet with Chinese President Hu Jintao and Premier Wen Jiabao the same day, sources familiar with the situation said Sunday.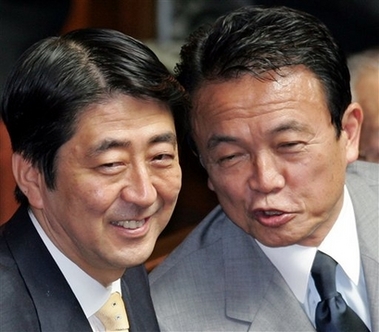 Japanese Prime Minister Shinzo Abe, left, chats with Foreign Minister Taro Aso prior to the opening of a Parliament session in Tokyo Thursday, Sept. 28, 2006. Abe, the new outspoken nationalist prime minister, is soaring in public opinion polls with support ratings for his Cabinet as high as 71 percent, according to surveys released Thursday by four major newspapers. [AP]


Abe, who took office Tuesday as prime minister succeeding Junichiro Koizumi, is expected to visit South Korea Oct. 9 to meet with President Roh Moo Hyun.

He pledged during his leadership campaign that he wants his first overseas visit to be a summit with "an Asian leader."

On Friday, Abe pledged in his first policy address as prime minister to parliament to mend soured ties with China and South Korea, and referred to his agreement with Roh over the phone Thursday to meet at an early date.

Japan has had no summit talks for 17 months with China and 10 months with South Korea as the countries protest at former Prime Minister Koizumi's repeated visits to Tokyo's war-linked Yasukuni Shrine, where Japanese Class-A war criminals are honored along with the war dead.

After Koizumi visited Yasukuni last October, the Chinese leaders have refused to hold any summits with Koizumi.

Koizumi, who last met with Hu in April last year in Jakarta, made his sixth annual visit to the Shinto shrine on Oct. 17, and paid his last homage there while in office on the Aug. 15 anniversary of the end of World War II.