US, China mull limited space co-op
(Reuters)
Updated: 2006-09-25 22:06
BEIJING - The US space agency (NASA) and China's civilian space programme are considering working together on some projects, but joint missions into space are still a long way off, the agency's head said on Monday.
Michael Griffin, the first National Aeronautics and Space Administration (NASA) administrator to visit China, welcomed the country to "the fraternity of space-faring nations" at a news briefing in Beijing.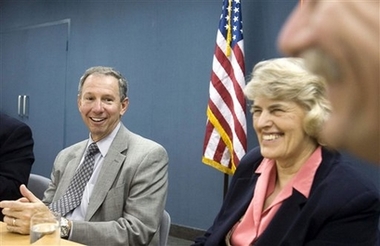 NASA administrator Michael Griffin (L), NASA astronaut Shannon Lucid share a light moment during a roundtable talk with reporters at the US Embassy press center in Beijing Monday, Sept. 25, 2006. Griffin was in Beijing on Monday for talks with Chinese officials that China's government hopes will lead to cooperation in space exploration. [AP]
He said the two programmes were considering holding annual meetings, and that areas for working together could include earth science, climate research, data sharing and robotics.
"But collaboration on human missions would be well down the road. This is only the first step," said Griffin.
China put its first man in space aboard the Shenzhou V in 2003 and completed its second manned space mission last October. State media have said it aims to put a man on the moon around 2017.
Griffin added that the United States had no immediate plans to ask China to join the International Space Station (ISS) programme, on which the United States cooperates with 14 other countries -- Canada, Japan, Russia and 11 participating member nations of the European Space Agency.
"The partnerships that led to the development of the ISS are well established. I do not propose to change any of those arrangements at the present time," he said.
Griffin also stressed that key differences remained between the United States and China on certain aspects of their space programmes.