More peacekeepers heading to Lebanon
By Le Tian (China Daily)
Updated: 2006-09-19 07:05
The nation will increase the strength of its peacekeeping force in Lebanon to 1,000 from fewer than 200 now to try and achieve stability in the country, Premier Wen Jiabao said yesterday.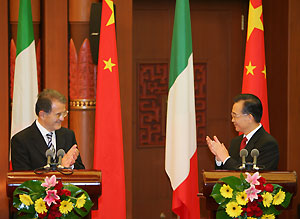 Italy's Prime Minister Romano Prodi (L) and his Chinese counterpart Wen Jiabao greet each other at the end of a joint news conference at the Great Hall of the People in Beijing September 18, 2006. [Reuters]

"China is very concerned about the situation in Lebanon and hopes it can be fully resolved," Wen said at a joint press conference with visiting Italian Prime Minister Romano Prodi after a one-hour closed-door meeting.

The announcement came as the United Nations peacekeeping force is being expanded to uphold a shaky truce between Israel and the Hezbollah guerrillas.

China sent 182 peacekeepers to Lebanon at the start of the year, its first peacekeeping contingent to the Middle East, before the clashes erupted in July between Israel and the Lebanon-based Hezbollah.

Wen also said that the country would offer humanitarian assistance in materials worth 40 million yuan (US$5 million) to Lebanon, half of which has already been provided.

Prodi praised China for sending more peacekeepers, saying it shows that "China is assuming more and more international responsibilities."

Prodi began a six-day official visit last Wednesday, which took him to major Chinese cities such as Nanjing, Guangzhou, Shanghai and Tianjin. The capital is the last stop on his trip.

Speaking at the news conference, Prodi said his country was inclined to supporting the end of a 17-year-old ban on arms sales China.

Italy is "leaning towards lifting the embargo on arms sales to China," he said.

The embargo was imposed by the European Union (EU) in 1989 and Beijing has repeatedly tried to get the ban lifted, calling it a "Cold War relic." France is in favour, but others in the 25-nation EU have failed to reach agreement.

Prodi also expressed support for China's efforts to win market economy status, which would help the nation avoid dumping allegations. "We should resolve this issue as quickly as possible because it can't wait," said Prodi, a former European Commission president.

| | | |
| --- | --- | --- |
| 1 | 2 | |