China's environmental chief has blamed fraudulent project approval procedures and slow construction of pollution control facilities for a rise in emissions in the first half of the year.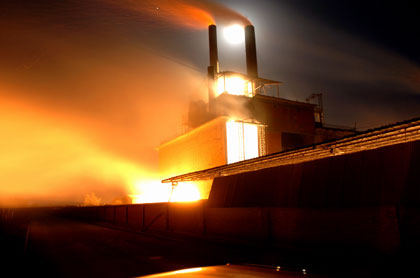 A blast furnace of a calcium carbide plant in Inner Mongolia. More than 1,500 factories in southern China had been closed down in the past three years due to the pollution and environmental hazards they posed.[Xinhua]
Pollution discharges increased in 17 provinces over the first six months, despite the government's pledge to cut emissions 2 percent by the end of the year, said Zhou Shengxian, director of the State Environmental Protection Administration.
Sulfur dioxide emissions increased 5.8 percent from January to June compared with the same period last year.
"It is clear the conflict between economic growth and environmental protection is coming to a head," Zhou said.
"Fraud in project approval was prominent, with many projects passing their environmental assessment without fulfilling the necessary criteria," he said.
In some counties only 30 percent of the projects had been checked for pollution control compliance before they received construction licenses, the environmental chief said.
And nearly half of the firms, even those that passed environmental appraisals, failed to carry out emission-control measures as required.
A government probe of pollution-control approvals for construction projects valued at more than 100 million yuan (US$12.5 million) found violations in almost 40 percent of the cases, Zhou said.
"Monitoring new projects for pollution control and preventing approval fraud will be the priority of environmental officials in the second half of this year," he said.
The growth in facilities to reduce emissions has lagged far behind the rapid expansion in new construction, Zhou said, noting that almost half of the new coal processing projects this year failed to set up desulfurization equipment.
China discharged 25.49 million tons of sulfur dioxide in 2005, making it the world's top polluter of the substance.
Nearly 85 percent of the emissions came from industrial sources, mostly large coal-burning projects.
The country has promised a 10 percent cut in sulfur dioxide emissions by 2010.
Zhou said government officials must work harder to meet pollution-reduction goals.
"The responsibility for curtailing emissions rests on the shoulders of the local governments," Zhou said.
The government will ensure that officials who ignore environmental protection will "pay the price," he said.
Officials in 16 provincial governments and managers at six major power companies have signed responsibility pledges with the central government to reduce pollution discharges.
"For governments that fail to fulfill the pledge, approval will be suspended for new projects that might increase pollution emissions," Zhou said.