Hu pledges to rein in economic boom
(Agencies)
Updated: 2006-07-24 21:42
President Hu Jintao called Monday for more efforts to control sizzling economic growth and spread the benefits of China's boom to the poor, state media reported.
Hu's public appeal reflected mounting official urgency about the twin challenges of managing China's surging growth and assuaging public anger at a growing gap between rich and poor.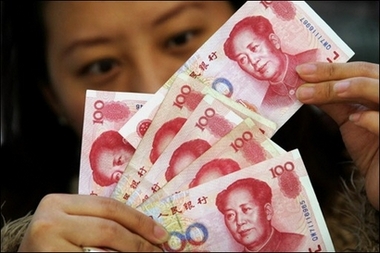 A Chinese customer shows off a handfull of hundred-yuan notes at a local bank in Beijing, May 2006. China will not make another one-off appreciation of its currency, a government spokesman has said following the release of data showing the strongest economic growth in around a decade. [AFP]
The president called for faster capitalist-style reforms and more effective economic controls at a meeting of Communist Party leaders and prominent figures outside the party, the official Xinhua News Agency and state television said.
In keeping with those concerns, the leadership announced that its annual Central Committee meeting will take place in October and focus on spreading wealth to the millions left behind by reforms that have enriched an urban elite.
The government must "control the scale of investment" in the second half of this year, Hu said, after economic growth soared to 11.3 percent in the second quarter, its highest rate in a decade.
Hu didn't mention any new initiatives. The government has already tightened lending rules for banks and barred building of villas and other luxury projects outright. Despite that, the number of new construction projects soared by 22.2 percent in the first half. Economists expect Beijing to raise interest rates for a second time this year.
Xinhua said the party meeting in October will focus on building a "harmonious country" - a reference to official efforts to ease tensions over China's growing wealth gap between regions and social classes.
Hu called for officials to "resolve issues that seriously concern the people and the masses," such as improving access to schools and doctors, the reports said.
The government faces rising public frustration in areas throughout the country over the loss of farmland to real estate development.