China's official exchange rate hit a new high against the US dollar on Friday after strong growth figures released this week prompted calls for Beijing to cool an economic boom by nudging up the value of its currency.
The yuan traded at 7.9815 to the US dollar on the over-the-counter market on Friday afternoon.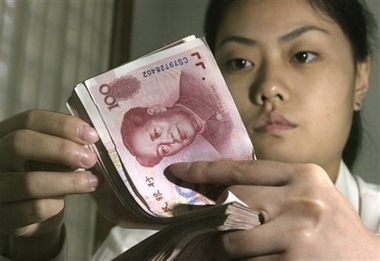 A Chinese bank worker displays Chinese yuan at a bank in a Beijing, China file photo from Aug. 7, 2003. A year ago this Friday July 21, 2006, China's central bank revalued the yuan by 2.1 percent and then loosened its decade-long link to the US dollar. Since then, the yuan has been allowed to rise a mere 1.4 percent against the dollar, less than some currencies move in a day. [AP]
The new record came on the first anniversary of Beijing's move last July to cut the yuan's direct link to the dollar and switch to setting the exchange rate against a group of foreign currencies. Since that time, the yuan has risen just 1.6 percent against the US dollar.
China's central bank on Friday raised the amount of money that banks must hold in reserve, reducing the amount available for lending in an effort to cool off a credit boom that the government worries could ignite inflation.
The order, which takes effect August 15, raised the amount that most Chinese banks must keep on deposit with the central bank by 0.5 percent point to 8.5 percent of their deposits.
"The move aims to tighten up the banks' liquidity management, curb the excessive growth of money and credit, and maintain the good development momentum of the economy," said the central bank in a statement posted on its website.
It was the second time in two months that Beijing has raised the reserve ratio and came after government said Tuesday that economic growth surged 11.3 percent in the second quarter, its highest rate in a decade.
Aside from worries about inflation, Chinese authorities are concerned that frenzied construction of apartment buildings, factories and shopping malls could spark a financial crisis if developers fail to repay loans.
Economists have suggested Beijing might move to slow growth by raising interest rates or allowing the yuan to rise, which might rein in the expansion by making Chinese exports more expensive.
Masahiro Kawai, an Asian Development Bank economist, said this week the growth figures were an "even stronger case" in allowing the yuan to rise.