The death toll from natural disasters triggered by the tropical storm Bilis has increased to 228.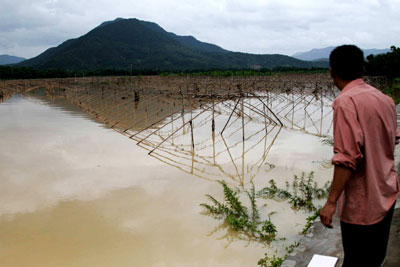 A man watch his land submerged in floods caused by Typhoon Bilis in Ping He county, east China's Fujian province July 16, 2006. Rainstorms and winds unleashed by Bilis whip Fujian province Sunday, leaving 43 dead and 24 others missing. The directe ecnomic losses hit 3 billion yuan (US$375 million). A total of 154 are killed around south east China, according to state press. [Newsphoto]
The death toll in the southern province of Guangdong rose to 63, while a total of 30 were confirmed dead with three others missing in Guangxi Zhuang Autonomous Region, local authorities said on Thursday.
The number of victims stood at 92 in Hunan and 43 in Fujian provinces respectively.
At least 156 people are still missing and 26.45 million people have been affected in China's southern and eastern provinces, the Ministry of Civil Affairs said on Wednesday.
The heavy rains and floods have toppled 212,000 houses, damaged 287,000 houses and forced 2.95 million local residents to move to safer places.
More than 6.68 million Guangdong residents were affected and 1.08 million have been relocated. The direct economic losses have reached 9 billion yuan (more than 1.1 billion U.S. dollars), according to Guangdong flood control headquarters.
Four official working teams and five medical detachments were rushing to the flood-stricken areas to aid the disaster relief operation.
Workers had repaired most of the telecommunication networks by Thursday. The service suspension affected more than 260,000 people, incurring economic losses of 140 million yuan (17.5 million U.S. dollars).
In neighboring Guangxi, more than 6.53 million people were affected by the rainstorms, flooding and mudslides, which incurred over 2.2 billion yuan (about 2.75 million U.S. dollars) in economic losses.
The local government has provided more than 5 million yuan (625,000 U.S. dollars) in disaster relief and has dispatched 10 working groups to flood-ravaged areas.
The central government has earmarked 75 million yuan (nearly 9.4 million U.S. dollars) to help Guangxi fight extreme natural disasters, in addition to the 41-million-yuan (over 5.1 million U.S. dollars) disaster relief fund provided by the Ministry of Civil Affairs during the flooding season this year.
Tropical storm Bilis landed in China last Friday and triggered heavy rainfall and serious floods in Zhejiang, Fujian, Jiangxi, Hunan, Guangdong and Guangxi.
As Bilis dies down, the storm-ravaged regions will experience a major heat wave over the coming week, according to local meteorological stations.
Fujian issued a heat warning on Thursday morning when the peak temperature reached over 38 degrees Celsius.