Hui calls for flood-control efforts amid Bilis ravage
(Xinhua)
Updated: 2006-07-18 20:02
As the death toll from the rainstorms and floods triggered by the killer tropical storm Bilis has risen to 198 in China, Vice Premier Hui Liangyu on Tuesday urged all related government departments to continue their efforts in flood control and disaster relief.
The Chinese government regards the current flood control task its top priority and pays great attention to safety of people's life, Hui said during an inspection tour in Hunan Province, the worst-hit province where 92 people have been confirmed dead, more than 100 are missing and 400,000 others are affected.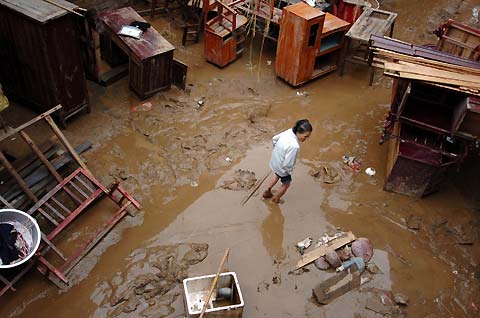 A woman walks in the muddy street of Chenzhou in Central China's Hunan Province after floods brought by typhoon Bilis fade away in the area on July 17, 2006. [Xinhua]
Hui, also head of the State Flood Control and Drought Relief Headquarters, visited several flood-hit counties and cities, calling for continuous efforts in flood control, settlement of affected people and rebuilding of destroyed houses.
The vice premier said storm-ravaged areas still face great pressures in flood control and disaster relief so that governments at all levels must take effective measures to prevent more possible disasters and ensure safety of major rivers and reservoirs in the flooding season.
Thanks to the well-prepared emergency plans and the timely instructions from the State Council, disaster relief in flood-hit areas is being conducted in an orderly way.
The State Flood Control and Drought Relief Headquarters have sent a dozen of task forces to check flood prevention and control efforts along major rivers.
Hui, also a member of the Political Bureau of the Communist Party of China Central Committee, warned local officials of their duty in flood control, asking them to take measures against possible spread of epidemics in flood-hit areas.
The vice premier also urged local governments to help farmers restart farming production in disaster-ravaged areas to minimize the damage to crop growth and harvest.