The one-month bidding war surrounding Hong Kong's largest phone operator came to an end Monday after its controlling shareholder Richard Li sold a 23-per-cent stake to a high-profile local banker.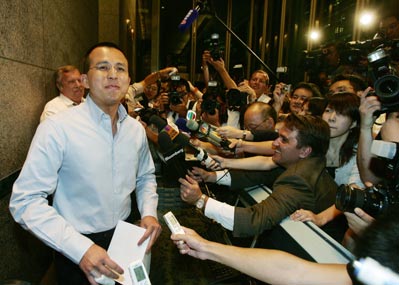 PCCW Ltd. chairman Richard Li speaks to the media after a board meeting in Hong Kong, July 10, 2006. Li said on Monday that his Singapore-listed Pacific Century Regional Developments was selling its 23 percent stake in PCCW for HK$6.00 a share to local financier Francis Leung. [Reuters]
The mega-deal, worth HK$9.16 billion (US$1.17 billion), valued PCCW at HK$6 (77 US cents) per share, an 8 per cent premium to its closing price of HK$5.55 (71 cents) on Friday.
Li retains a 3 per cent stake in the firm, in which China Netcom Group Corp, the mainland's second-largest fixed-line operator, spent US$1 billion last year for a 20-per-cent stake.
Francis Leung, who stepped down this year as chairman of Citigroup's Asia investment banking arm, beat two overseas rivals Australia's Macquarie Bank and the Asian arm of US buyout firm Texas Pacific Group.
The two had previously offered US$7.3 billion and US$7.55 billion for the main phone and media assets of PCCW.
Dubbed "Godfather of Red Chips", Leung is credited with arranging the Hong Kong listing of some big mainland in the 1990s. Red chips are Hong Kong-listed mainland companies with at least a 20-per-cent stake held by the State or State-owned entities.
PCCW "has a unique position in Hong Kong's infrastructure network," Leung said at a press conference last night. "This is a long-term investment."
Analysts said it's a wise move for Li to exit the telecom sector, which is highly competitive and delivers slim profits.
"I think he made the right decision," said Andes Cheng, an analyst with Hong Kong's South China Brokerage Co Ltd.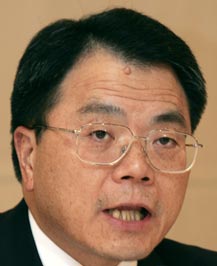 Hong Kong financier Francis Leung speaks during a news conference in Hong Kong July 10, 2006. Leung announced on Monday a bid for the controlling stake in phone company PCCW Ltd., held by Li's younger son Richard. [Reuters]

Leung said he would team up with China Netcom to explore the mainland market. When he was with Citigroup in 2004, Leung handled the listing of China Netcom Group's Hong Kong arm.

Li said he would personally earmark HK$1.38 billion (US$177 million) to minority PCCW shareholders as special dividend, translating into HK$0.33-HK$0.38 (4.2-4.9 US cents) per share, a move analysts said would be part of the reason why PCCW shares would rise after they resume trading today.

"It's not the 100 per cent outcome that I had hoped for, but this is the best we can do," Li told a press briefing. He declined to take questions.

PCCW shares increased about 10 per cent till Friday after Macquarie Bank's offer was made public on June 20. Texas Pacific joined the bid a few days later.

Opposition to Texas Pacific and Macquarie, Australia's largest investment bank, highlights China's sensitivity towards overseas ownership of industries the government views as strategic, said some analysts.

"Communication is considered a very strategic asset," said Francis Lun, general manager at Fulbright Securities Ltd.