Taiwan leader Chen Shui-bian's son-in-law was indicted Monday on charges of insider trading.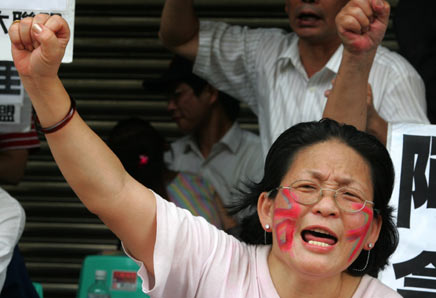 A protester shouts for Taiwan leader Chen Shui-bian to step down in Taipei June 12, 2006. [Reuters]
Prosecutors are seeking an eight-year jail term for Chao Chien-ming, a doctor at the prestigious Taiwan University Hospital, local television stations said.
Chao was arrested in May on suspicion of using insider information to profit on the purchases of shares in property company Taiwan Development Corp.
The 34-year-old physician, who is in custody, and Chen's daughter, Chen Hsing-yu, have three children.
Lin Bang-liang, a chief prosecutor at the Taipei District Court, told reporters that Chao is suspected of making 29.49 million New Taiwan dollars (US$912,000) from the insider trading scheme.
Among the other defendants reportedly named in the case are Chao's father, Chao Yu-chu, who faces up to 10 years in prison if convicted of insider trading and breach of trust, and five other businessmen.
The case against Chao Chien-ming is among a series of high-profile corruption allegations involving Chen's family and inner circle.
Amid the cascade of scandals, Chen's public approval ratings have plunged to around 20 per cent.
He has apologized for the turmoil caused by his son-in-law but has refused to step down despite mass protests launched by Taiwan's main opposition parties.
Last month, Chen survived an unprecedented motion in the opposition-controlled "legislature" aimed at ending his "presidential" term two years early.
If it had been passed, the recall motion would have triggered an island-wide referendum on whether to oust Chen before his second term ended in May 2008.
The opposition Kuomintang and People First Party insist that Chen has to take responsibility for the string of corruption scandals implicating his family and close aides.
Local newspapers said Chen's wife, Wu Shu-chen, was due to be questioned before the end of the month in connection with claims that she allegedly received, and then sold, 5 million New Taiwan dollars' (US$156,000) worth of store vouchers in exchange for lobbying favours.
The report came after Huang Fang-yen, a close friend of Chen's family, said for the first time that he had received 1 million New Taiwan dollars' (US$30,000) worth of SOGO department store vouchers.
Chen has denied that his wife did anything wrong and has pledged to quit office if she is found guilty of any offence.