Next UN Chief should be from Asia - China
(Xinhua)
Updated: 2006-07-07 09:42
China on Thursday said it wants the next UN Secretary-General to be Asian.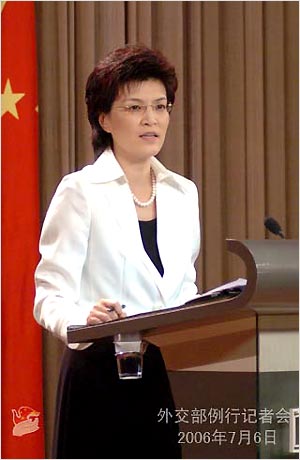 China's Foreign Ministry spokeswoman Jiang Yu answers questions at a regular press conference, Beijing, July 6, 2006. [FMPRC.gov.cn]
"China firmly believes that next UN Secretary-General should come from Asia and Asian countries will keep solidarity and coordinate the selection of a competent, prestigious Secretary-General, who is widely accepted by Asian countries," China's Foreign Ministry spokeswoman Jiang Yu told a news briefing.
French Ambassador to the United Nations, Jean-Marc de La Sabliere, said Wednesday that the first "straw polls" for a new UN Secretary-General are due to be held in the UN Security Council by the middle of July.
Sabliere, who is the Security Council president for July, told reporters at UN headquarters in New York that the UN Security Council hopes to submit the final candidate to the General Assembly either in late September or early October allowing the new Secretary-General several months to prepare before taking over the job at the beginning of next year.
Jiang said the straw polls are unofficial consultations and are aimed at testing Security Council members' general reactions to different candidates.
UN Secretary-General Kofi Annan's second five-year term will end on December 31.
The UN charter allows the Security Council to nominate a candidate who is then be approved by the UN General Assembly.