A high-altitude journey ends in China
(AP)
Updated: 2006-07-04 08:43
China's new train from Beijing to Tibet arrived in the ancient capital of Lhasa Monday, ending its maiden journey after climbing to elevations so high that ballpoint pens and packaged foods burst.
Some passengers breathed oxygen from tubes - many just out of curiosity - as the pressurized train crossed a 16,640-foot pass in Tibet's Tanggula Mountains, a height the Chinese government says makes the $4.2 billion railway the world's highest.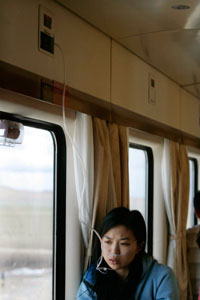 A passenger wears an oxygen tube on board the first Beijing-to-Lhasa train as it cruises along the Qinghai-Tibet railway July 3, 2006. Many passengers were affected by high-altitude problem as the train passed over 4,500 metres. [Reuters]

Girls in track suits and traditional Tibetan robes draped white scarves, a customary greeting, on passengers arriving in Lhasa's new railway station.

Tibetan antelope and wild donkeys grazed beneath stunning vistas of snowcapped mountains and deep-blue skies as the train rolled through the treeless, sparsely populated area.

China's government says it is spending $190 million on environmental protection along the Golmud-Lhasa stretch of the railway.

Trains completed shorter trips on the line between Lhasa and Golmud in Qinghai province while passengers on the 16-car train from the Chinese capital were in the midst of their journey.

Before the last leg of the trip to Lhasa, the train stopped in Golmud early Monday to switch its standard engine for three powerful locomotives required to haul the train at high altitude.

The only signs of human habitation in the arid highlands south of Golmud were occasional small train stations and herders tending yaks.

After the train climbed above 13,000 feet, pens and bags of processed food burst due to the low air pressure. Laptop computers and digital music players failed, because moving parts in their disk drives are cushioned by tiny air bags that break at high altitude.

The railway is projected to help double tourism revenues in Tibet by 2010 and cut transport costs for goods by 75 percent. Until now, goods going to and from Tibet have been trucked over mountain highways that are often blocked by landslides or snow, making trade prohibitively expensive.