China's economy will grow at least 10 percent in the second quarter and in 2006 as a whole despite measures to cool down its booming economy, Chinese central bank governor Zhou Xiaochuan said on Saturday.
Speaking to reporters on the sidelines of the annual meeting of central bankers at the Bank for International Settlements in Basel, Zhou said: "I think probably for the entire year it's also something around 10 percent."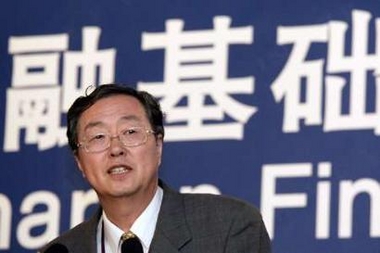 China's central bank governor Zhou Xiaochuan delivers a speech during the 'Seminar on Financial Infrastructure' in Beijing June 6, 2006. [Reuters file photo]

He said second-quarter growth would also be "probably quite high" at above 10 percent.

Despite measures to curb growth, recent data has suggested that China's economy is steaming ahead, with investment in factories and other fixed assets in the first five months of 2006 jumping 30.3 percent from a year before.

In the first quarter of 2005, China's economy expanded by 10.3 percent.

China surprised financial markets in April by raising interest rates for the first time in 18 months. It hiked its benchmark one-year lending rate to 5.85 percent from 5.58 percent.

The central bank also raised the amount of cash that banks have to hold in reserve by 0.5 percentage points earlier this month to rein in frenzied lending and excessive investment.

"The direction is to gradually tighten up," Zhou said.

However, Zhou said China did want to risk an economic slowdown.

"We have to try and keep growth stable and sustainable, not deliberately repress the potential of economic growth. China is still a developing country. We are trying to make a balance between economic growth and stability."

Zhou would not be drawn on whether China would allow its currency to strengthen further, an intense topic of debate for financial markets.

The yuan has now appreciated around 1.4 percent further since it was revalued by 2.1 percent on July 21, 2005, and freed from a dollar peg to float within managed bands.

"The currency now is on the market demand and supply relationship. The market changes time to time," he said.

Beijing has come under pressure from trading partners, particularly the United States, to allow its currency to rise to bring down China's massive trade surplus.

Zhou said the central bank paid attention to global developments, but the main focus was on domestic factors.

"I think that domestic equilibrium, domestic stability and currency stability are always more important considerations than international considerations," he said.