Drugs burn as 3 dealers taken to die
(Shanghai Daily)
Updated: 2006-06-24 15:01
Three drug dealers were executed yesterday after hearing their sentences read out in front of 1,300 Shanghai residents who were invited to a university campus to witness an object lesson on the ills of narcotics.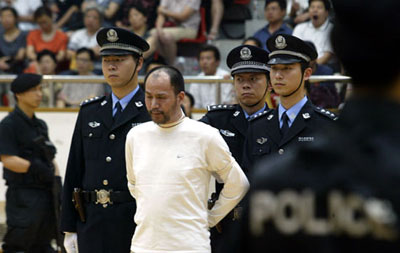 Chen Genbao is one of three drug dealers sentenced to death and executed in Shanghai yesterday. City police also burned 400 kilograms of confiscated narcotics in a public ceremony to mark World Anti-drug Day.[Shanghai Daily]
More than 400 kilograms of drugs were burned after those defendants and two others received formal notice of their sentences at the Shanghai University of Sport in Yangpu District.
The activities were held to mark World Anti-drug Day, which will falls on Monday.
Three of the drug salesmen, Zeng Xiaohua, Chen Genbao and Wang Aiyi, were taken to an undisclosed location in the suburbs to be shot immediately after they were sentenced.
Zeng, a Hubei Province resident, was convicted of selling more than 2 kilograms of heroin and methamphetamines. Chen, from Shanghai, was caught with 1.2 kilograms of drugs, and Wang, of Heilongjiang Province, transported more than 3 kilograms of drugs, authorities said.
The other defendants were sentenced to prison terms ranging from 18 years to life for lesser drug crimes.
The drugs that were destroyed included heroin, methamphetamines, ecstasy and cannabis. They were burned in 10 large containers after Zhou Taitong, vice mayor and vice director of the Shanghai Municipal Anti-drug Commission, pushed an ignition button.
Zhou said he hoped city residents will provide more cooperation to police in their anti-drug campaign. He said rewards would be given for information leading to drug arrests.