Most Taiwanese say A-bian unfit to be leader
(AP)
Updated: 2006-06-19 10:09
Most Taiwanese consider Chen Shui-bian unfit to be the leader amid allegations that his family is corrupt, a newspaper poll said Monday.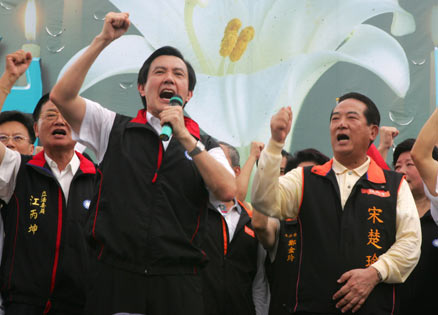 Ma Ying-jeou(L), chairman of Nationalist Party and James Soong (R), chairman of the People First Party shout for Taiwan leader Chen Shui-bian to step down during a rally the city of Changhua, roughly 150 km (90 miles) south of Taipei, June 18, 2006. [Reuters]


About 53 percent of the respondents said it was inappropriate for Chen to stay on as "president," according to a poll conducted by the mass-market China Times. Only 31 percent said Chen should continue as Taiwan's leader, and the remaining had no opinion.

Chen's son-in-law, Chao Chien-min, was arrested on May 24 on suspicion of insider trading.

Prosecutors also are investigating whether Chen's wife, Wu Shu-chen, was involved in illegal financial dealings linked to a department store. The "Presidential Office" has denied the allegations.

The opposition is hoping to pass a motion on June 27 setting up a public referendum to recall Chen.

According to the China Times poll, about 51 percent of the respondents said the "Presidential Office" failed to convince them of the first lady's innocence. Only 13 percent believed Wu has been cleared, and the remaining had no opinion.

The respondents were split over how they viewed the opposition campaign to oust Chen, with 41.6 percent supporting the move and 40 percent disapproving. The remaining had no opinion.

The opposition _ which holds a slim majority in the legislature _ needs to muster a two-thirds legislative majority to be able to refer the issue to voters.

Emile Sheng, a political scientist with Taipei's Soochow University, said many people may want to leave the issue to the judiciary, noting the difficulty of the opposition campaign and the progress investigators appeared to have made on the probe.

But he said the poll results could serve as a warning to Chen's Democratic Progressive Party for supporting Chen despite the corruption scandals.

"After pledging support to Chen, the DPP is counting on the first family's innocence for its development over the next decade," he said.

The China Times poll, conducted by telephone Friday and Saturday, had a margin of error of 3.1 percent. It surveyed 1,017 people.