Japan to end freeze on China aid loan
(chinadaily.com.cn)
Updated: 2006-06-05 07:17
Japan mulls lifting the freeze on aid loans to China for fiscal 2005 in a strong push to rectify its crippled foreign policy plagued by faltered ties with neighboring China.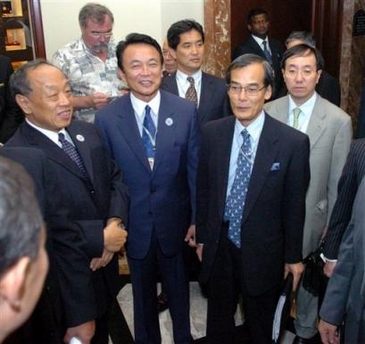 China's Minister of foreign affairs Li Zhaoxing, left, and Japan's Foreign Minister Taro Aso, second left, arrive for a bilateral talk at the opening of The Fifth Asian Cooperation Dialogue Conference held in Doha, Qatar, on Tuesday, May 23, 2006. Others unidentified. [AP]


The move on the part of Japan is apparently aimed at giving a boost to mending the soured sino-Japanese relationship, after Chinese Foreign Minister Li Zhaoxing agreed last month on the sidelines of the fifth ministerial meeting of the Asia Cooperation Dialogue in Doha to promote exchanges in economic, defense and other areas.

Li Zhaoxing said at the May meeting that the Chinese government has attached great importance to developing Sino-Japanese friendship and is ready to promote good-neighborly and cooperative ties with Japan based on drawing on lessons from the history and looking to the future.

Koizumi's repeated visits to Yasukuni Shrine which honors 14 top war criminals has made the bilateral relationship at the ebb.

"A trend toward in improvement in Sino-Japanese ties is developing," said Japanese Foreign Minister Taro Aso. He added that extending yen loans would further accelerate such moves.

The end to the loan freeze will be confirmed by Japan's top decision-making panel on foreign aid strategy comprising Japanese Prime Minister Junichiro Koizumi, Foreign Ministry Taro Aso and other ministers sometime this week.

At the same time, Japanese Foreign Minister Taro Aso plans to visit Beijing sometime after the Group of Eight summit in Russia in mid-July, in a bid to mend mutual ties.

The amount of yen loans to China has been declining since peaking in fiscal 2000, with the figure coming to 85.9 billion yen for fiscal 2004. The Japanese government is also considering reducing the yen loans for fiscal 2005.

The Japanese Cabinet traditionally approves yen loans during the fiscal year they are earmarked for. However, the procedure was put on ice in fiscal 2005 due to the frosty state of bilateral ties.