Pfizer wins patent protection for Viagra in China
(WSC.com/Chinadaily.com.cn)
Updated: 2006-06-04 09:52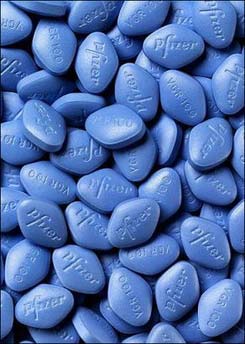 This undated file photo shows Viagra pills made by Pfizer. [AFP]
Pfizer Inc. won a key lawsuit in China for the patent protection of Viagra, the Wall Street Journal Online reported on Saturday.

Viagra is one of Pfizer's most popular prescription drugs in the fastest-growing Chinese market.
"We welcome the court's decision," Pfizer spokesman Paul Fitzhenry to the paper. "It reflects China's commitment to creating an effective patent-protection environment and boosts the confidence of the business community in China as an investment location."

The decision overturns a two-year-old ruling by China's patent review board that sided with a group of generic-drug makers that had challenged Pfizer's patent.

Though the ruling could be appealed, a spokesman for the Chinese drug maker group said that it was unlikely one would be filed, according to the paper.
Pharmaceutical giant Pfizer launched its lawsuit against China's State Intellectual Property Office two months after its patent for Viagra was revoked in China in July 2004.
The Beijing Municipal First Intermediate People's Court accepted Pfizer's petition in April 2005.
China has offered promise for foreign companies that the Chinese government is taking serious measures at protecting intellectual property right and branding.