Thousands rally, demand Chen to quit
(Reuters)
Updated: 2006-06-03 20:15
TAIPEI - Thousands of people rallied in Taipei on Saturday, joining an opposition call to demand "president" Chen Shui-bian's resignation over an insider trading scandal involving his son-in-law.

Shouting "Ah-bian step down", they gathered near the "presidential office" in central Taipei as riot police with baton and shields kept watch behind barbed-wire barricades set up to keep protesters at bay.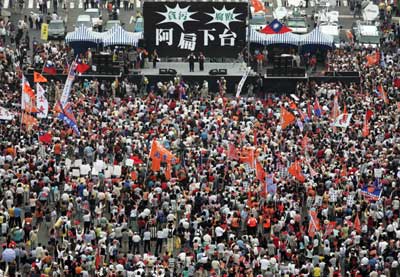 Thousands of Taiwanese protesters gather before a large stage at a rally calling for "president" Chen Shui-bian to step down over an insider-trading scandal involving his son-in-law in Taipei June 3, 2006. The banner at the back of the stage reads: "Ah-bian step down," referring to Chen's nickname. [Reuters]


Chen, whose nick-name is Ah bian, has faced growing pressure to step down after his son-in-law was detained last month on suspicion of using insider information to buy shares of Taiwan Development Corp. from a bank.

"Probe graft to the very end", said placards carried by the demonstrators.

Chen, whose approval rating has sunk to new lows, and his son-in-law, Chao Chien-ming, have apologised. And Chao, who has been detained, has denied any wrongdoing.

Chen has agreed to yield some powers to "premier" Su Tseng-chang and approved the resignations of his closest aides in an apparent attempt to deflect pressure from both supporters and opponents to step down.

But Chen's moves were too late for the People First Party, Taiwan's second-biggest opposition party, which organised the protest.

Analysts said the struggling party was seeking to seize the initiative after Ma Ying-jeou, chairman of the main opposition Nationalist Party, angered supporters by opposing calls for Chen to be recalled in a parliamentary vote.