Russia and China moved to fortify their growing security cooperation in Central Asia but reassured the United States that their new-found unity of purpose in the region was not designed to subvert US interests there.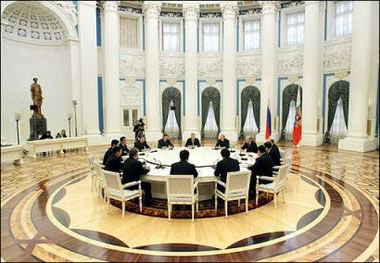 Chairmen of the Parliaments of the Shanghai Cooperation Organization (SCO) Member States meet with Russian President Vladimir Putin in Moscow's Kremlin. Russia and China moved to fortify their growing security cooperation in Central Asia but reassured the United States that their new-found unity of purpose in the region was not designed to subvert US interests there.[AFP]
Russian President Vladimir Putin however acknowledged growing "competition" to a new Central Asian security organization led by Moscow and Beijing while Chinese President Hu Jintao said the new group had become an "important force" for peace and stability in the world.
In the first meeting of its kind, parliamentary leaders from the six countries of the Shanghai Cooperation Organization (SCO) met Tuesday in Moscow to discuss ways to harmonize their laws and begin building a legislative dimension for the grouping.
The SCO parliamentary leaders, including Wu Bangguo, chairman of the standing committee of the Chinese legislature, held a meeting at the Kremlin with Putin, who said involvement of national legislatures in the organization would "enrich the partnership" of its member states.
Led by China and Russia, the SCO, founded five years ago, also includes Kazakhstan, Uzbekistan, Kyrgyzstan and Tajikistan. Other key countries in the region -- India, Iran, Mongolia and Pakistan -- currently have observer status and have also expressed interest in becoming full members.
The United States however is not a member and, according to sources, is growing increasingly uneasy at the direction and purpose of the organization, which has been described by experts as the foundation of a new Eurasian counterweight to the North Atlantic Treaty Organization ( NATO).
One source who asked not to named said the US embassy in Beijing earlier this month delivered a message to the SCO secretariat voicing concern that some members may regard the group as a vehicle for countering US influence in the region. This could not immediately be confirmed in Moscow.
In his meeting with the lawmakers, Putin said there was growing international interest in the SCO which he said "has become an important, influential regional organization" in the five years since its founding.
He also cited efforts to counter this growing influence.
"We see in the international arena there are attempts to create competition to our organization," Putin said.
"I think it would be right if we did not engage in this and instead continued with the positive, constructive work that we have been doing for the past several years."
Putin did not refer to the United States explicitly but Boris Gryzlov, the speaker of the Russian parliament, made clear afterwards that Moscow had Washington foremost in its mind.
"Is it possible to fight terrorism and drug trafficking in the region without the participation of the states of the region? Of course not," Gryzlov said in remarks broadcast on state television.
"But a proposal to create in Central Asia an organization parallel to the SCO, which the United States has called for, suggest that this can be done. This does not help the fight against threats. It only makes the threats bigger."
Gryzlov did not elaborate, but reports in Russian and Chinese media in recent months have evoked a "big Central Asia" initiative, described as a US plan to set up a new grouping of Central Asian states -- excluding Russia and China -- to coordinate work in various fields.
A report in the Russian government daily Rossiiskaya Gazeta on May 13 speculated that even Iran could be asked to participate in the new US-inspired grouping.
Russian Deputy Foreign Minister Alexander Alekseyev however said Tuesday that Iranian President Mahmoud Ahmadinejad was among the leaders who had confirmed his attendance at an SCO summit scheduled to be held in Shanghai next month, ITAR-TASS news agency said.
Meanwhile, speaking in Beijing, the Chinese president sought to reassure Washington that the SCO was not aimed at subverting US interests in Central Asia.
"Since its founding, the Shanghai Cooperation Organization has not been a close, exclusive organization," Hu said in remarks carried on Chinese state television.
"It is aimed against no country whatsoever," he said, adding that the organization had become "an important force for promoting peace and stability in the region and throughout the world."