China's longest river is "cancerous" with pollution and rapidly dying, threatening drinking water supplies in 186 cities along its banks, including Shanghai, experts warned on Monday.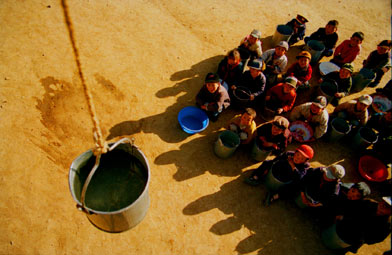 Chinese children wait to collect drinking water from a water tanker at a remote village in Minxian County, Northwest China's Gansu Province, in this file photo taken on April 2005. China is facing a serious water crisis -- 300 million people do not have access to drinkable water.[Newsphoto/file]



Chinese environmental experts fear worsening pollution could kill the Yangtze river within five years, Xinhua news agency said, calling for an urgent clean-up.

"Many officials think the pollution is nothing for the Yangtze," Xinhua quoted Yuan Aiguo, a professor with the China University of Geosciences, as saying.

"But the pollution is actually very serious," it added, warning that experts considered it "cancerous.""

Just 31 percent of the water is of first or second class quality, with 35 percent under the third class. Yuan warned that with no measures taken to curb pollution it was possible the river would have 70 percent water below the third class in three to five years.

Liu Guangzhao, a Chinese-Australia scientist, said that if 70 percent of water dropped to the fourth or fifth class, many hydrophytic plant species would disappear and the river would become a dead river.

Industrial waste and sewage, agricultural pollution and shipping discharges were to blame for the river's declining health, experts said.

The river, the third longest in the world after the Nile and the Amazon, runs from remote far west Qinghai and Tibet through 186 cities including Chongqing, Wuhan and Nanjing and empties into the sea at Shanghai.

It absorbed more than 40 percent of the country's waste water, 80 percent of it untreated, said Lu Jianjian, from East China Normal University.

"As the river is the only source of drinking water in Shanghai, it has been a great challenge for Shanghai to get clean water," Xinhua quoted him as saying.

China is facing a serious water crisis -- 300 million people do not have access to drinkable water -- and the government has been spending heavily to clean major waterways like the Yellow, Huaihe and Yangtze rivers.

However, little progress had been made because of spotty regional enforcement, expert said.

Quite a few localities along the middle and lower reaches, ignoring the damage to the river, are still running pollution-causing paper-making, shipbuilding, heavy chemical and steel plants along the river.

Lu urged the local governments to take necessary measures on pollution treatment immediately, so as to prevent the river system being destroyed.

Despite immediate concerns for the cities along its banks, the Yangtze, along with the Yellow river, is earmarked for China's South-North water diversion scheme -- a plan to pump water from southern waterways to the parched north.

Most of the Yellow River, the second-longest in China and the cradle of early Chinese civilisation, is so polluted it is not safe for drinking or swimming, Xinhua news agency said in May last year.