Germany, China at impasse on Maglev train line
(Reuters)
Updated: 2006-05-23 20:04
Germany wants to show the world it can build economically viable high-speed trains using decades-old magnetic levitation technology, which allows for travel at speeds of more than 400 km per hour (240 mph).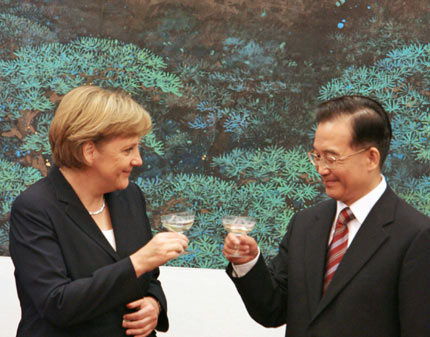 Chinese Premier Wen Jiabao (R) toasts German Chancellor Angela Merkel after their meeting at the Great Hall of the People in Beijing May 22, 2006. [Reuters]
China has shown a willingness to embrace the technology, announcing plans to build a $4.3 billion, 200-km (124 miles) track connecting Shanghai to the city of Hangzhou in time for the 2010 World Expo in Shanghai.
But the plan remained stuck in the station on Tuesday, despite a push to conclude an agreement during a brief visit to Shanghai by German Chancellor Angela Merkel.
Many believe that technology transfers lie at the heart of the impasse, with China wanting Germany's Siemens and ThyssenKrupp , which pioneered the technology, to transfer more of their know-how to China in exchange for big contracts.
The Xinhua news agency said on Tuesday a "consensus" had been reached on technology transfer and other key issues surrounding the 4 billion euro ($5.15 billion) project, using the technology known to many as Maglev.
But a Siemens spokeswoman and sources close to the deal told Reuters no deal had been reached.
"Negotiations are still going on, and we are quite happy with how it's going," the Siemens spokeswoman said. "So far there is no agreement and no orders signed."
China is now home to the world's only commercially operational Maglev line, a $1 billion-plus project connecting the city's downtown area with its international airport.
A consortium including Siemens and ThyssenKrupp helped the city construct the line, which opened in early 2004. But the rail, which has become a sort of tourist attraction, has been slow to catch on among the broader populace largely due to its poor location.