Canada urged to extradite smuggler soon
(Xinhua)
Updated: 2006-05-23 19:44
The Chinese government has urged Canada to extradite alleged smuggling kingpin Lai Changxing as soon as possible to face trial in China, said Chinese Foreign Ministry spokesman Liu Jianchao here on Tuesday.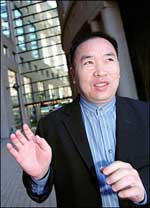 China's most wanted fugitive, Lai Changxing, pictured in 2001. [AFP]

Lai is accused of leading a ring which conducted, in collaboration with corrupt officials in coastal Xiamen City, the biggest smuggling operation uncovered in China since 1949. The case involved goods worth 10 billion U.S. dollars.

Lai fled to Canada with his family in 1999. He has been trying to gain refugee status in Canada.

The date for Lai's extradition was yet to be confirmed, said Wu Heping, spokesman for the Ministry of Public Security.

Liu said the Chinese government had taken a firm stance on the issue and has reiterated the stance to the Canadian government.