China is crucial to the success of talks on reining in North Korea's nuclear programs, UN Secretary-General Kofi Annan said on Tuesday as he urged Beijing to take a more active role in protecting human rights.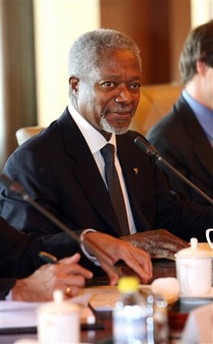 U.N. Secretary-General Kofi Annan meets China's State Councillor Tang Jiaxuan (not in picture) in Diaoyutai State Guest House in Beijing May 22, 2006. [Reuters]

In a speech to students at Peking University, Annan said he spent "a good deal of time" talking with Chinese leaders about the nuclear crises in

Iran and North Korea and the importance of nuclear non-proliferation.

"As host of the six-party talks on the nuclear issue in the Korean peninsula, China has played a crucial role," he said.

"China's ongoing leadership will be essential to ensure that multilateral diplomatic efforts result in a peninsula free from nuclear weapons. We cannot allow the current stalemate to continue."

Christopher Hill, the top U.S. negotiator to the talks that also group the two Koreas, Japan and Russia, is due in Beijing on Wednesday in a renewed push to restart the negotiations.

The delegations agreed in principle in September that Pyongyang would dismantle its nuclear programs in exchange for aid, security assurances and improved diplomatic ties.

But the last session in November ended without progress and North Korea has refused to take part since then.

China, which has veto power as a permanent member of the UN Security Council, has also been at the center of diplomatic efforts to convince Iran to stop its nuclear research, which Western powers believe is aimed at making weapons.

China and Russia have resisted Western efforts to impose tougher measures such as sanctions on Iran.

Annan also raised the thorny topic of human rights, calling them a "crucial set of norms to uphold" and urging China, whose record on the subject is a chronic subject of international scrutiny, to play a responsible role as a member of the new Human Rights Council.

"Now it is time for China and other members of the council to find ways to ensure the protection of the human rights of all people in every country in the world," he told the students.

The watchdog group Human Rights in China had urged Annan to raise the issue, saying the climate for lawyers, petitioners, journalists and religious practitioners was deteriorating.

Annan arrived in Beijing on Friday on the third leg of an Asian tour, having already been to South Korea and Japan.

He said the three Northeast Asian powers, whose ties have been strained over issues stemming from Japan's World War Two occupation of the Korean peninsula and parts of China, could improve relations by working together in areas such as environmental protection.