China on Monday called for furthering China-Germany relations to enhance their global responsibilities based on the principles of mutual respect, equality and mutual benefit.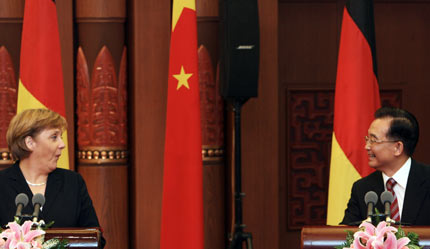 Chinese Premier Wen Jiabao (R) speaks next to German Chancellor Angela Merkel after their meeting at the Great Hall of the People in Beijing May 22, 2006. China and Germany signed a batch of 19 agreements on the first day of Merkel's visit, including to build a high-speed rail system. [Reuters]
"China regards its ties with Germany as extremely important and is willing to make concerted efforts with Germany to foster all-round China-EU partnership and achieve sustainable peace and common prosperity of the world", Chinese President Hu Jintao said in his meeting with visiting German Chancellor Angela Merkel.
"China and Germany are both influential nations in the world and their respective regions", Hu said, noting that the two sides share same or similar views on significant international issues such as the maintenance of the world peace and the promotion of common prosperity.
Hu also spoke highly of the development of bilateral relations, expressing his appreciation to Germany's focus on relations with China and the continuity of the country's China policy.
"China and Germany have established frequent high-level exchanges and witnessed rapid growth of bilateral trade and investment in recent years", Hu said, adding that Germany is China's largest trading partner within the EU and the two countries have held intensive consultations and cooperation on international issues within the framework of China-EU relations.
"We appreciate the German government's adherence to the one-China policy and supports Germany playing a larger role in international organizations such as the United Nations", Hu said.
Echoing Hu's view on bilateral relations, Merkel said that Germany will continue to uphold the one-China policy and the continuity of the China-Germany strategic and cooperative partnership.
Germany and China share broad common interests and could establish cooperation in many fields, Merkel stressed.
She highlighted that China and Germany have signed a series of agreements in the fields of economics, technology, intellectual property protection, culture and human rights during her China visit.
Merkel expressed the hope that the two nations could cement cooperation in fields like energy security and energy efficiency and strengthen communication and collaboration on various international issues in multilateral organizations especially in the UN.
During the meeting, Hu also briefed the guest on China's energy policy and the two exchanged views on the Iranian nuclear issue.