"Needle exchange programmes help more than AIDS prevention; it provides a communication platform for IDUs, helps them gain confidence and build their social responsibility." -- GU QIAN, An official with the Centre for Disease Prevention and Control in Ziyang, Sichuan Province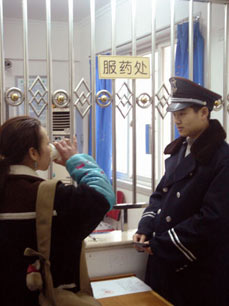 The 25-year-old woman surnamed Lu refused to talk about her past -- a past destroyed by heroin.
For the past seven years, the pretty woman has been addicted to injecting drugs, which led to numerous needle scars on her arms and the deadly HIV virus.
The city where she resides, Ningming city of South China's Guangxi Zhuang Autonomous Region, bordering Viet Nam, has been troubled by drug trafficking. Around 500 HIV/AIDS cases have been reported there, most of them injected drug users (IDUs) who became infected by sharing tainted syringes, rinse water, cotton and other injection equipment.
"It's a very tough problem; IDU will continue to be the leading factor to aggravate the epidemic," said Professor Chen Jie, director of Guangxi's Centre for Disease Prevention and Control (CDC). The region is among the areas most heavily hit by HIV/AIDS.
Threat to public health
The marriage of drugs and HIV has led to a serious public health problem in China.
After HIV/AIDS was first detected in Yunnan Province among drug users, drugs have played a predominant role in the spread of the disease. Statistics show that from 1997 to 2004, IDUs made up about 62 per cent of reported HIV/AIDS cases. The more alarming figure is that HIV infects more than 10 per cent of IDUs in Yunnan, Xinjiang, Sichuan, Guangxi, Guangdong and Ningxia. In some areas the number is as high as 80 per cent, like Yili of Xinjiang and Dazu city in Sichuan.
The Chinese Government has spent a huge sum of money and additional police to crack down on drug trafficking and rehabilitate drug abusers. But such policies are inadequate when HIV is involved in the battle.
"If I have money to buy syringes, why not use it for drugs?" said Lu, adding that many drug abusers can't afford the daily cost for clean syringes - 1.5 yuan (US$0.18) each. In addition, buying syringes risks exposure to the police and results in compulsory detoxification.
It's not enough just telling drug abusers not to share syringes - financial pressure
and the behaviour of group injection usually cause them to neglect the risk of transmitting HIV.
The experience of other countries indicates that to curb the behaviour requires more proactive - and controversial - measures, such as providing IDUs with clean injection equipment or methadone maintenance therapy at very low cost.
Needle exchange programmes
Supported by the government and several international organizations, 30 cities in Guangxi have carried out needle exchange programmes since 2004, covering more than 6,100 IDUs.
Lu has not only benefited from the project, but also has helped deliver syringes to other IDUs as a peer educator.
She collects used syringes from around 30 IDUs, counts them and delivers them to the needle exchange centre under the Ningming Health and Disease Prevention Institute. From the centre, she gets the same number of free, clean syringes and rinse water.
As a peer educator, she also regularly educates her peers about the HIV/AIDS and advises them to quit risky behaviour, including needle sharing and unprotected sex.
Lu is happy with her job, which brings her a stable monthly salary of 300 yuan (US$37). She is proud of doing something good for society. "I can say that none of my peers share needles."
"Being infected with HIV is the most horrible thing. But we couldn't control ourselves not to share needles when the addiction would come up," said a drug user surnamed Lin in Ningming who uses free syringes from the project.
"Without the needle exchange programme, the disease (HIV) would be prevalent
among people like me."
Around 100 needle exchange centres have been established in 12 provinces in est and south China that have severe drug problems. Comparative studies show needle exchange, together with community outreach work to IDUs, has caused a decrease in heroin use and drug-related crimes among participants.
"Needle exchange programmes help more than AIDS prevention; it provides a communication platform for IDUs, helps them gain confidence and build their social responsibility," said Gu Qian, a CDC official in Ziyang city of Southwest China's Sichuan Province.
The needle exchange centre in Ziyang under Gu's charge has served near 1,000 IDUs since 2004.
Methadone maintenance therapy
Lu hopes the day will come soon when she will be rid of the heroine nightmare by taking methadone maintenance treatment (MMT). In Ningming, the first government- sponsored clinic is expected to be open by June.
The first MMT programme was piloted in China in March 2004. By last year, a total of 34 methadone clinics had been established in 11 provinces including Sichuan, Zhejiang, Guangxi and Guizhou.
Since last June, 29-year-old Liao and her husband have visited the MMT Clinic located in Wuhou District People's No. 2 Hospital in downtown Chengdu. A small cup of methadone every day costs them only 10 yuan (US$1.20). The green and bitter liquid has helped them quit injecting heroin.
The couple are HIV positive. A screening of 200 patients in the clinic last year found 20 patients to be HIV positive, seven of them confirmed as HIV carriers.
"The city needs at least 11 such clinics to effectively control HIV prevailing among and through IDUs," said Deng Jingfu, director of the clinic, which has a staff of 12.
The clinic, the only one in Chengdu, has received more than 330 patients, much more than the designed capability of 250 patients.
"We need more financial support and experienced medical staff who are capable of dealing with drug problem," said Deng.
The pilot MMT projects have had mixed results: uneven adherence by patients, decrease in crimes and also medical accidents involving death. The central government has approved dozens more MMT clinics for the third-stage pilot MMT programme.
Experts say that most injected heroin users need to take methadone for the rest of their lives if they are to remain heroin free. The cost of providing them cheap methadone and running the clinics requires a heavy financial investment.