TOKYO - Japan and China tried to find common ground in a heated row over lucrative gas and oilfields in the East China Sea but failed to make a breakthrough.
"Both sides have gained further understanding of each other's position but there still remains a gulf," said Kenichiro Sasae, the chief Japanese delegate to the one-day meeting -- the fifth round of talks on the issue with China.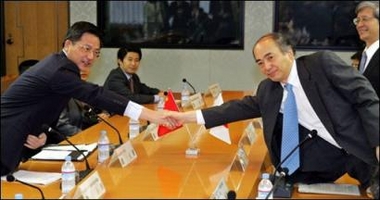 Hu Zhengyue(L) chief of Chinese Foreign Ministry's Department of Asian Affairs, and Kenichiro Sasae, head of Japanese Foreign Ministry's Asia-Oceania Bureau, shake hands at the start of natural resources talks in Tokyo. Japan and China tried to find common ground in a heated row over lucrative gas and oilfields in the East China Sea but failed to make a breakthrough. [AFP]
The energy reserves are among a number of disputes that have badly damaged relations between the Asian powers, which are also divided over wartime history.
A Chinese consortium has been developing gasfields in the area, raising Japanese concerns that it could siphon off its resources. Both sides have proposed joint gas and oil development but they differ on where exactly their zones lie.
China does not recognize the boundary claimed by Japan, which splits the area in half, and says its rights extend nearly as far east as Japan's southern islands of Okinawa.
"We've picked up all the major discussion points" of Chinese and Japanese proposals, said Sasae, the head of the Japanese foreign ministry's Asian and Oceanian Affairs Bureau.
There were no new proposals but the two sides pledged to hold more talks as soon as possible, possibly in June, Sasae said.
"The Chinese side said they will make efforts to resolve the issue through talks," said another Japanese delegate, Nobuyori Kodaira, head of the Agency for Natural Resources and Energy.
China has said it did not expect a breakthrough in the talks.
"China will take an earnest and responsible attitude and will work to bring the two sides closer and overcome differences," foreign ministry spokesman Liu Jianchao said in Beijing.
Japanese Foreign Minister Taro Aso had earlier expressed optimism that the two countries could reach an understanding over at least one of the two areas under discussion for development.
"We could find common ground over the north side," Aso said on Tuesday.
After the last round of talks, China said it would "never accept" a plan by Japan to jointly develop energy reserves based on what Tokyo says is the maritime boundary.
Tensions rose last year after Japan said it had spotted flames indicating China had started production. China began test-drilling in 2003.
Ties between the two nations have already been strained by Prime Minister Junichiro Koizumi's repeated visits to a shrine which commemorates war dead including war criminals.
China, which was invaded by Japan in the 1930s, suspended top-level bilateral meetings with Japan in October after Koizumi's last visit to the Yasukuni shrine.
Japan has been pushing for a meeting between the two nations' foreign ministers when they attend the Asian Cooperation Dialogue forum in Qatar next week.
Liu, the Chinese spokesman, said Beijing was "still researching" the proposal.
South Korean Foreign Minister Ban Ki-Moon, whose country has also been outraged by the war shrine visits, said Wednesday that he was ready to meet his Japanese counterpart Aso in Qatar.