Typhoon Chanchu hit China's southern coast Thursday morning, killing at least 16 people, before it was downgraded to a severe tropical storm moving northeast.
The number of casualties may rise as authorities were still checking the storm's path late Thurdsay.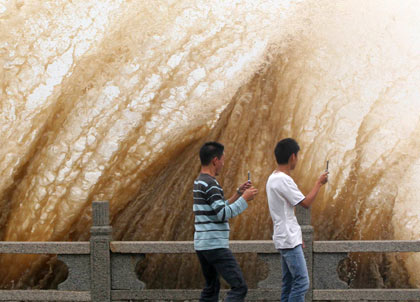 Chinese men take snapshotsas strong waves whip a bridge in Zhuhai, Guangdong province May 17, 2006. Typhoon Chanchu continues to move northward along the coastal areas of east China's Fujian Province after it landed in Guangdong. [Xinhua]
Chanchu, the most severe typhoon ever to hit the area around the South China Sea in May over the past 50 years, also forced more than 1.2 million residents to flee their homes in Guangdong, Fujian and Zhejiang provinces, reported the state flood and drought center and the Ministry of Civil Affairs.
The typhoon landed about 2:30am yesterday in Shantou, a city in the northeastern tip of Guangdong. Half an hour later, the eye of the typhoon moved across Guangdong to neighboring Fujian Province.
It packed winds of at least 35 meters per second when it hit Shantou.
A landslide toppled three houses in a Shantou suburb, killing three people, authorities said.
Fujian authorities said 13 people have been killed.
In the province's Yunxiao County, landslides leveled two houses in a village, killing at least eight people and leaving several others missing. Rescue work has been hampered as floods destroyed area highways.
The typhoon also spawned torrential rain in the two provinces. More than 640 millimeters of rainfall was reported in Zhangpu, Fujian Province, as of yesterday afternoon. Meanwhile, Guangdong's Chaoyang received about 400 millimeters, according to the state flood and drought center.
Five major rivers in Fujian surged above alert levels. In the most serious case, water in the Dongxi River rose to 7.05 meters, or 1 meter above the warning mark, at the Zhao'an power station early yesterday.
Fujian officials estimated economic losses at 3.9 billion yuan (US$487 million).
Authorities in Fujian evacuated at least 709,000 people as of late yesterday. In Guangdong, 327,000 people were forced to leave homes in the path of the typhoon.
More than 119,000 ships were forced to return from the sea in the two provinces.
Thousands of people evacuated from fishing boats and low-lying areas were staying with relatives, in tents, or in schools and warehouses.
Zhejiang Province evacuated at least 123,000 people.
The typhoon was downgraded to a tropical storm about 6am in Fujian. It was expected to arrive in the East China Sea late last night.
In Shanghai, flights resumed normal operation at the city's two airports yesterday. On Wednesday, some flights to Fujian and other southern Chinese cities were affected.
Taiwan Island also reported the deaths of two women in the southern region of Pingtung due to floods brought by the typhoon.
Also yesterday, 27 Vietnamese fishermen were missing after three boats went down in the South China Sea after being swept up in the storm.
Another 67 people on six boats safely reached an island.
Chanchu left 37 people dead as it pummeled the Philippines last weekend.