Everyone grows old. Everyone but 30-year-old Gao Xiang, who wishes he could escape his Peter Pan life and grow old. Gao looks like exactly a teenage boy, especially when he sings with his childlike voice.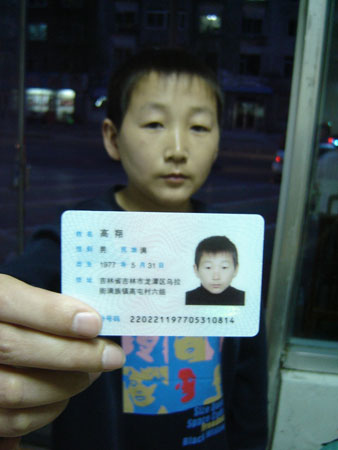 Child looking Gao Xiang shows his ID card which registers his age at 30 years old. The man stopped growing at the age of 12 after a severe illness. [Changchun Evening Paper]
The youngest son of a NE Jilin family, Gao stopped growing at 12 years old, after narrowly surviving a severe childhood illness. He was 1.5 m high and weighed 40 kg
At 16, GAO quit school after being tormented about his short stature by his peers. Since then, he has worked at several different odd jobs to earn a living.
In an effort to land a stable job with higher pay, Gao uses all his meager savings teaching himself computer skills.
"It's very funny, many Internet bars assume I'm a minor and refuse me entry," says Gao with an embarrassed smile on his childlike face.
When asked about his love life, Gao responds with great humor, saying, "Come on, look at my baby face! How could girls have feelings for me?"