Deadly typhoon bears down on HK
(Agencies/China Daily)
Updated: 2006-05-17 11:39
Typhoon Chanchu roared toward Hong Kong and China's southern coast, just days after killing nearly 40 people and leaving thousands homeless in the Philippines.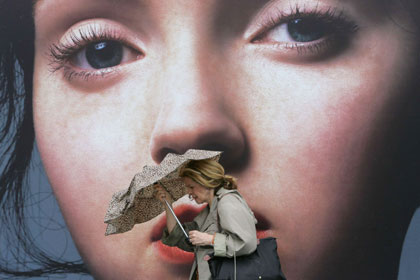 A woman braves gusty wind outside a shopping mall at a tourist district in Hong Kong May 17, 2006. Hong Kong, Taiwan Island and provinces on the Chinese southern coast were on alert on Wednesday as Typhoon Chanchu churned northward after tearing across the Philippines killing 37 people. The Hong Kong Observatory issued a strong wind signal number three, which means that winds with mean speeds of 41-62 kmh (25.5-38.5 mph) were expected in the former British colony. [Reuters]
The killer storm -- the strongest ever reported in the South China Sea in May -- has caused the cancellation of a handful of flights and ferry services as the region battened down to prepare for the storm.
More than 180,000 people have been evacuated from coastal areas to safe places in south China's Guangdong Province as typhoon Chanchu, the first tropical storm of this year, is approaching.
The province had called back 25,219 ships operating on sea by Tuesday night, according to the provincial disaster relief office on Wednesday.

Chanchu was expected to pass Hong Kong later Wednesday, but its eye was not expected to hit the territory, the Hong Kong Observatory said.
Chanchu was about 250 kilometers (150 miles) southeast of Hong Kong at 0200 GMT and moving north-northeast at 20 kilometers an hour, headed for the Guangdong coast, it said.
Hong Kong ordered kindergartens to close Wednesday along with schools for mentally handicapped children. Some ferry services to outlying islands were suspended.