NAIROBI, Kenya - President Hu Jintao couldn't resist the rhythm of a drum beat on the last day of his African tour Saturday, and walked off the red carpet at Nairobi's airport to beat a skin drum for traditional dancers.
A smiling Hu squatted beside a surprised Kenyan drummer to demonstrate his drumming skills, catching onlookers off guard with a break in official protocol.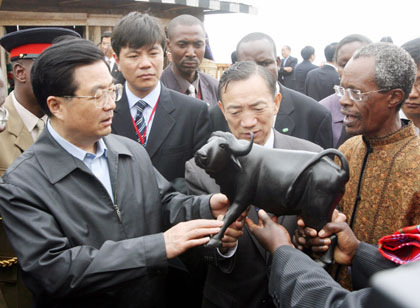 Chinese President Hu Jintao (L) examines a wooden buffalo statue he received during his visit to Kenya's Rift Valley view point at 2,438 meters (8,000 feet) above sea level, some 50 km (31 miles) west of capital Nairobi April 29, 2006. [Reuters]
The display was also a break from tradition for Chinese leaders, who are normally reserved in public.
Hu appeared to be in an upbeat mood a day after clinching yet another oil deal, cementing China's growing influence on a continent that is rich in natural resources but is also the world's poorest.
"It is our wish that your country will continue to use its growing economic strength to support developing countries," Kenya's President Mwai Kibaki, who is under pressure from Western donors to curb corruption in the country, said during a state banquet late Friday.
Hu said China was stepping up plans to assist developing countries, including zero-tariff on some exports, more aid, debt reduction and exemptions for exports from heavily indebted poor nations.
Earlier this week, Hu signed a series of major business deals with Nigeria, Africa's biggest oil producer.
But Nigeria's militant youths in the oil- rich Niger Delta on Saturday evening warned the Chinese government and its oil companies to steer well clear of the Niger Delta, according to China's Xinhua news agency.
China's oil firms began investing abroad in the late 1990s, after double-digit economic growth outstripped supplies from domestic fields.
On the back of an economy that is heading into its fourth year of 10 percent growth and has become the world's third-largest trader, Chinese leaders have won over Southeast Asian neighbors with trade, raised China's investment and presence in Africa and Latin America and gained access to oil from strategically shaky Central Asia and the Middle East.

Chinese delegation spokesman Liu Jianchao said the trip had been a success, but insisted there was more to it than snapping up new energy sources to feed China's roaring economy.
"This trip is not only energy orientated, it's also aimed at promoting political relations with China and the relevant countries," he told reporters late on Friday.
"They see China as a good opportunity for furthering their own interests," he added.

Foreign Minister Li Zhaoxing said on Saturday said President Hu Jintao's state visit to Saudi Arabia, Morocco, Nigeria and Kenya is of great significance to the development of relations between China and the four nations.
President Hu's Arab-African tour, following a visit to the United States, has achieved the desired goal of consolidating traditional friendship between China and the four nations, enhancing mutual trust and expanding mutually beneficial cooperation.
The visit ushered in a new situation featuring the development of mutually beneficial relations between China and Arab, African nations and developing countries at large, Li said.
He said President Hu held in-depth talks with leaders of the four nations and exchanged views with them on bilateral ties and regional and international issues of common concern.
During the tour, the president made important speeches on how to boost China's links with the Arab and African nations under the current situations, and met entrepreneurs, students as well as public representatives, Li said.
China signed 28 accords with the four countries, which covered a variety of fields including politics, security, economy and trade, energy, education, health system, culture and tourism during Hu's visits.