China's top legislature on Saturday ratified an extradition treaty with Spain, the first such treaty China has signed with a developed Western country, in which China unprecedentedly agrees that it will not execute repatriated criminals.
Legal experts said that the landmark ratification means that China has committed itself to respecting the principle in law according to which no repatriated criminal suspects would face death penalty. The principle is observed by major Western countries.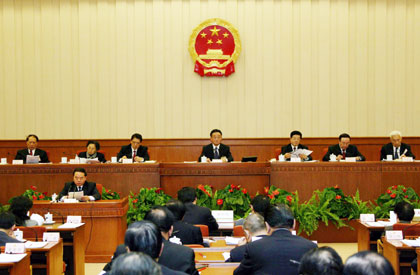 Chinese lawmakers convene their 21st session in the Great Hall of the People April 27, 2006. The lawmakers on Saturday approved an extradition treaty with Spain, the first such treaty China has signed with a developed Western country. [Xinhua]


The treaty also marks "China's major shift in tactics in bringing fugitive corrupt officials back to justice under its own legal jurisdiction," said Dr. Xu Hong, counselor with the Department of Treaty and Law under the Ministry of Foreign Affairs, in an interview with Xinhua.

"The treaty will help China weave a global extradition net to bring back corrupt officials who have fled abroad, largely seeking asylum in developed countries in Europe and North America," said Xu, who was also head of the Chinese delegation in China-Spain extradition talks.

Wu Dawei, China's vice foreign minister, said in a report to the legislature (the Standing Committee of the National People's Congress) earlier this week that "Spain is an influential country in the EU (European Union), and the treaty will effectively deliver the warning to corrupt officials who are at large on foreign lands."

Signing the extradition treaty with Spain will pave the way for more such judicial cooperation with other Western countries, he said.

The top legislature on Saturday also ratified an extradition treaty with Brazil, two treaties on legal assistance in criminal matters with Spain and France respectively, without the reference to how to handle suspects who might face death penalty.

Fueled by surging economic figures, crimes such as bribery, embezzlement have increased among government officials in China, and a large number of crooked officials fled China after reaping huge profits as police have come to be on alert.

According to a 2004 report released by the research institute attached to the Ministry of Commerce, about 4,000 crooked Chinese officials had fled overseas since China launched economic reforms in 1978, taking away funds equal to 50 billion U.S. dollars.

Statistics from the police authorities said there were still 500 economic crime suspects on the run in foreign countries in 2004. The money involved in these cases topped 70 billion yuan.

The police figures also show that from 1993 to January 2005, more than 230 Chinese criminal suspects had been repatriated from over 30 countries and regions, with assistance of the Interpol. But observers said they were just a friction of the suspects seeking refuge overseas.

Since 1993, China has signed extradition treaties with over 20 countries, mostly developing ones including Thailand, Laos, Belarus and South Africa. "Negotiations with developed countries were moving slowly," said Xu.

Observers said China's use of death penalty, especially on severe economic crimes, makes it hard for the country to cooperate on extradition with countries in the EU and North America who uphold the policy that no person who might be subject to the death penalty would be extradited.

To these countries, extradition treaties can never be signed without China accepting the policy, Xu said.

"The constitution of Spain does not allow death penalty," said Gregorio Laso, counselor of the Information and Press in the Spanish Embassy in China. In an interview with Xinhua, Laso said the fact of two countries coming across all the differences in legal system to co-operate demonstrates trust and respect between the two sides.

"The treaty has a very positive impact on bilateral relations, pushing the judicial co-operation to a new stage," Laso said, adding that the Ministry of Interior of Spain has set up an office in Beijing this month to take care of the judicial co-operation, including extradition issues.

According to Xu, Spain proposed to China for extradition co-operation in September 2004. The two sides had all the treaty articles agreed in October 2005, and signed the document in Madrid on November 14, 2005, during Chinese President Hu Jintao's visit to Spain. The legislature's ratification is required to finally enact the treaty, according to Chinese laws.

Though praised by Spain, the treaty has stirred up debate among Chinese legal experts and lawmakers, with some fearing that it might weaken China's anti-graft efforts by exempting runaway crime suspects from death penalty.

"Now, the issue is not that whether we should put them to death, but is that whether we can bring them back," said Xu, adding that once crime suspects are living at large on foreign lands, it is of no use to simply vow death penalty for them.

In fact, such an exemption of execution has already in practice relating to an official repatriated from the United States, even without an extradition treaty. Earlier this month, a court in the southern province of Guangdong sentenced Yu Zhendong, a former bank official repatriated from the United States, to 12 years in prison for embezzlement.

Yu, former head of a Bank of China branch in the city of Kaiping being held responsible for a 82.5 million U.S. dollar loss of the bank, was returned to China in 2004 after China agreed on no death penalty for him.