Japan will begin studying how to expand coral reefs near two islets at the center of a territorial dispute with China, a Japanese official said Monday.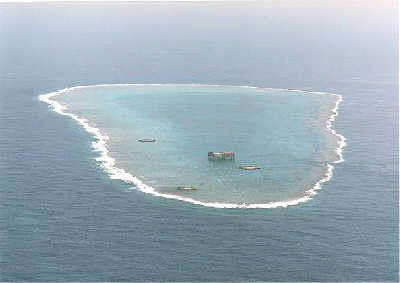 The islets known as Okinotorishima or "remote bird island," in fact are just a rock. [file photo]


The islets known as Okinotorishima or "remote bird island," in fact just a rock, are misused by Japan as a key to the rights to an extensive Exclusive Economic Zone in the Philippine Sea. China denounced Japan's claim.

The research will involve cultivating and transplanting coral eggs, said Fisheries Agency official Ryutaro Yamamoto.

Yamamoto said researchers and officials were set to meet Tuesday to discuss methods of building up the tiny, uninhabited Okinotorishima islets.

Japan has used cement embankments to fortify the rock outcroppings about 1,700 kilometers (1,060 miles) southwest of Tokyo, and uses them to extend its exclusive economic zone far into the Pacific Ocean.

Beijing argues that they can only be classified as rocks _ not islands _ and that Tokyo therefore cannot claim exclusive rights to the surrounding area, or prevent China from exploiting nearby resources.

Yamamoto said the government has allocated 300 million yen (US$2.5 million; euro2.07 million) in the current fiscal year as part of a three-year study on ways to expand coral reefs that are said to be declining around the islets.

Japanese officials and experts meeting Tuesday would look into coral-growing methods including collecting coral eggs, cultivating them in water tanks and transplanting them _ with experiments expected to begin as early as May _ Yamamoto said.

He said scientists in Japan and Australia have been studying the method, but there has been scant large-scale research on it.

Yamamoto said that the project is intended to help increase coral growth in other areas as well as the Okinotorishima islets.

"The primary purpose of the project is to conduct research, as there are not many technologies to grow corals. And it would be great if we could apply the technology" to expand coral growth in other areas, such as the southern Japanese island of Okinawa, he said.

"We also want to protect (the Okinotorishima islets), as they are Japan's important territory," Yamamoto said.

The dispute with China over the outcroppings heated up in 2004.