Canberra, Australia - China's pursuit of a peaceful development road is a choice made by its people in accordance with its national interests, said Cai Wu, minister in charge of the State Council Information Office. Cai is heading a Chinese media delegation on a weeklong visit to Australia.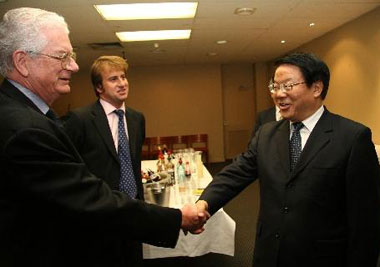 Cai Wu meets with Kim Randall, chairman of Australian National Press Club at Canberra, April 12, 2006. [chinadaily.com.cn]


Addressing the National Press Club of Australia in Canberra on Wednesday, Cai said that China's peaceful development should be interpreted as an attempt to accelerate growth in a peaceful international environment while simultaneously promoting world peace and prosperity through its own development.

"It requires China to show an all-dimensional openness to the world, " Cai said. " It aims for mutually beneficial win-win results and common development with the international community in step with the trend of economic globalization.

"China's peaceful development is development characterized by peace, opening up, harmony and cooperation," he emphasized.

For some time, China's rapid economic ascension has aroused concerns in the international community, at times even stoking the "China threat" theory.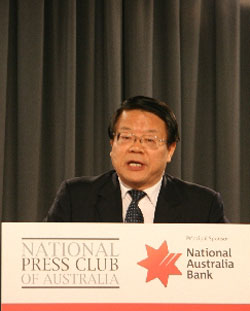 Cai Wu delivers a speech in English at the Australian National Press Club at Canberra, April 12, 2006. [chinadaily.com.cn]

China noticed that at a recent occasion, Australian Foreign Minister Alexander Downer made an explicit denial of the policy of containment of China, describing it as a grave mistake, Cai told his audience at the press club.

"We don't want to pursue a policy of containment towards China," said Downer in mid March at tri-party security talks with foreign ministers from Australia, Japan and the United States. "There's nothing wrong with the growing economic power of China. It's a good thing for Australia."

"This is wise policy," said the Chinese cabinet minister, adding that what China's growth brings to the world are investment opportunities, a huge and profitable market, and more production and employment opportunities.

Cai said Sino-Australia cooperation and friendship is bound by history for the good of mutual prosperity and peace in the Asian-Pacific region.

Cai noted that Chinese President Hu Jintao has reaffirmed once again that "China will always regard Australia as an important partner - past, present and future."

Top leaders from both countries have paid visits to each other's capital cities, which is a sign of improving relations, he said.

Although the two countries have different social systems, and have different historical and cultural backgrounds; China and Australia have neither historical grievances nor conflicts of fundamental interests, Cai said. During the past 34 years since bilateral diplomatic relations were established, China and Australia have always showed respect for each other's interests and concerns over major issues.

The agreements that China and Australia clinched during Premier Wen Jiabao's just-concluded visit are expected to open the door for wider cooperation, especially in the area of trade; with one country a rich reservoir of natural resources and the other a huge, stable and rising market. Two-way trade, at US$27.5 billion in 2005, has grown at a remarkable 30 per cent annually in the past few years.

However, as China has a population of 1.3 billion, its per-capita GDP of US$1,703 last year is a mere one-18th that of Australia, explained Cai, adding China has a lot to learn from developed Australia.

Recalling his first trip to Australia some 20 years ago, Cai highly appreciates Australia's all-round achievements. "In just over 100 years, the 'Southern Continent' has sprouted into a modern country," said Cai.

With an innate geological affinity, China and Australia were first connected 600 years ago by the Chinese explorer Zheng He. Zheng was the first Chinese to set foot in Australia during his epic voyage.

"We Chinese hold strong sense of history, which in this case serves as a tie connecting the two peoples," said Cai, adding that the relationship is not confined to the past alone.

Today, nearly 100,000 Chinese students are studying in Australia. Each year, some 800,000 people from both countries visit each other.

As the whole of China gears up for the coming 2008 Olympic Games in Beijing, the Chinese minister conveyed sincere admiration and interest in the experiences of Sydney holding the successful 2000 Games.

"We need to learn from Australia's two Olympic triumphs. To learn from Sydney's successful experience in hosting the Olympics is partly why we are here," said Cai.