To help reduce a massive trade gap, Beijing has agreed to lift a ban on US beef exports during latest bilateral trade talks in Washington, said a joint statement issued by US and Chinese officials.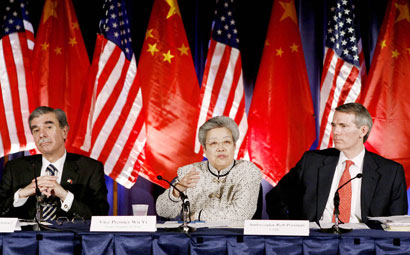 U.S. Secretary of Commerce Carlos Gutierrez (L), Chinese Vice Premier Wu Yi (C) and U.S. Trade Representative Rob Portman attend a news conference following the annual U.S.-China Joint Comission on Commerce and Trade meeting in Washington April 11, 2006. [Reuters]
"China has agreed to reopen its market to US beef subject to completion of the technical protocol," the statement said. The two sides promised to "work closely together" on final details to lift the ban which has been in place since 2003 when the mad cow disease row erupted in North America.
During the annual trade talks, the Chinese government also agreed to a range of measures to ease some serious US concerns on the trade front, AFP reported.
Vice Premier Wu Yi, who is heading a 200-strong shopping delegation visiting as many as 13 US states, told the US team that Chinese government would, aside from lifting the ban on US beef, consider launching talks to join a World Trade Organization (WTO) agreement on government procurement.
Such an agreement would require all Chinese-made computers to install legal software, enforce the closure of factories making fake and pirated CDs and DVDs, eliminate barriers to trade in medical devices and launch a dialogue on the steel trade.
The meeting "achieved forward movement in a number of significant areas," US Trade Representative Rob Portman told reporters.
"We welcome the progress made today and will continue to press for additional steps to promote greater equity, durability and balance in the US-China trade relationship," Portman said. US Secretary of Agriculture Mike Johanns said he was "very pleased" with China's decision to resume imports of US beef.
"While we still need to finalize the terms of this market opening, including specific protocol and timing for trade resumption, we have agreed to do this very quickly," Johanns said.

China imported about $100 million of U.S. beef annually before the ban, making it a relatively small market. But U.S. producers see strong growth potential because of the country's booming economy and Chinese consumers' fondness for beef.
"It would be unscientific and unfair to lay all the blame on China for the U.S. trade deficit issue," Chinese Vice Premier Wu Yi said at a joint news conference with Gutierrez and other top U.S. officials. "But still the Chinese government attaches great importance to solving the U.S. deficit."
| | | |
| --- | --- | --- |
| 1 | 2 | |