China has agreed to requests by the United States and Europe to hold talks over tariffs on car parts, the Commerce Ministry said.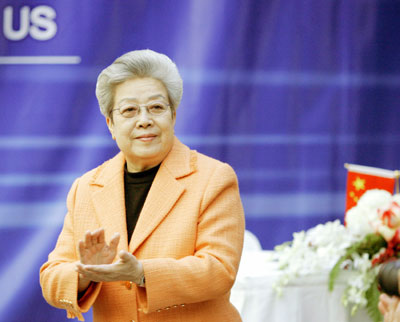 China's Vice-Premier Wu Yi applauds at the signing ceremony of purchasing contracts and agreements between China and US companies during her visit to Los Angeles April 6, 2006. Chinese Vice Premier Wu Yi is heading a delegation of more than 200 business executives from 110 state-owned and private sector companies who will be in Los Angeles on Thursday to sign contracts worth more than $4 billion. [Reuters]
China's ambassador to the World Trade Organization, Sun Zhenyu, sent letters to his US and EU counterparts informing them that Beijing has accepted their requests for a meeting.

"The time and place for the consultation will be discussed separately," the ministry said in a statement Saturday on its Web site.
Last month, Washington and Brussels filed complaints saying some of China's rules on car import tariffs are not in accordance with WTO rules, putting European car manufacturers at a disadvantage compared to local producers.

Both said China could be breaking trade rules by applying the same tariff for finished cars to the import of parts that make up 60 percent or more of the cost of the final vehicle.
This discourages automakers from using imported car parts for the vehicles they assemble in China and creates an incentive for car parts makers to shift production to China, they said.
In responses to the request, Cong Quan, the spokesman of the Chinese ministry, expressed regret on the European Union's plan to file a WTO complaint against China's rules over imports of auto parts.
He said China is seriously considering the request for dispute settlement consultations from the EU and US on auto parts makers.
Authorities said that China's tax are aimed at curbing tax evasion by some foreign auto manufactures, saying that some of them disassemble their cars before importing and then reassemble them in China, thereby avoiding customs payments on importing whole cars.

China's fast-growing auto market is the world's largest after the United States, and Beijing is eager to expand the Chinese auto industry.
The Bush administration is under pressure to rein in a bilateral deficit that on US figures reached $201.6 billion in 2005. China, which counts Hong Kong trade separately, put its calculated surplus with the United States last year at $114.2 billion.
Under WTO rules, if a resolution is not found in 60 days, then the EU and China can ask a WTO panel to rule on the dispute.