Chinese Premier Wen Jiabao has announced a new package of aid to Pacific countries to develop bilateral relationships and to revitalize cooperation in the economic field.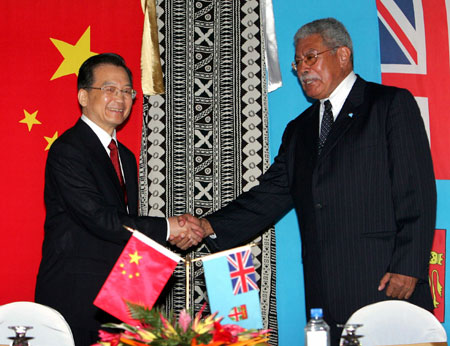 Fijian Prime Minister Laisenia Qarase (R) shakes hands with Chinese Premier Wen Jiabao after a signing ceremony in Nadi, Fiji April 4, 2006 for bilateral agreements between the two countries. [Reuters]
Wen offered new loans and aid and promised the China was committed to long term engagement with some of the world's smallest and least populated nations.
On the first ever visit by a Chinese premier to the Pacific Islands, Wen told island leaders and ministers at the opening of an economic and development conference that China was in the region to stay.
"As far as China is concerned, to foster freindship and cooperation with the Pacific island countries is not a diplomatic expediency," Wen told the opening of the China-Pacific Islands Countries Economic Development and Cooperation conference.
"Rather it is a strategic decision. China has proved and will continue to prove itself a sincere, trustworthy and reliable friend and partner of the Pacific island countries forever."
Wen emphasised the prospect of growing economic links between China and the Pacific Islands during his flying 23-hour visit.
"Our respective economies are mutually complementary. China has funding and technical expertise. The island countries are rich in natural resources," he said.
Wen announced China would provide three billion yuan (US$375 million) in preferential loans in the next three years to boost cooperation in resources development, agriculture, fisheries and other key industries.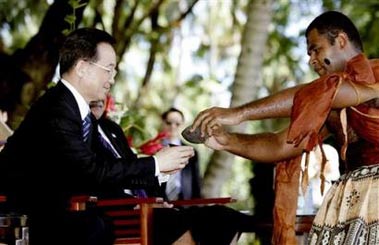 Chinese Premier Wen Jiabao (left) is offered a traditional drink of Kava during a traditional Fijian welcome in the city of Nadi, Fiji, Wednesday, April 5, 2006. Wen attended the China-Pacific Countries Economic Development Forum and meet with many Island country leaders, including Fiji's President Ratu Josefa Iloilo and Prime Minister Laisenia Qarase. [AP Photo]
China would also offer zero tariffs for exports from the least developed countries in the region, as well as cancelling any of their debts which matured at the end of 2005.
He also announced free anti-malaria medicines would be provided to affected Pacific countries over the next three years and training for 2,000 government officials and technical staff.
Wen witnessed the signing of bilateral agreements with eight island countries during his stopover at Denarau. Ministers also signed a regional framework agreement for economic cooperation between China and the Pacific nations.
The visit saw dark suited Chinese and Pacific officials mixing with a horde of security officers and tourists wearing shorts and t-shirts in the lobbies of the hotels used as meeting venues.
Pacific leaders welcomed the visit as an historic event and Fiji Prime Minister Laisenia Qarase said it reflected shifting diplomacy and political realignments in the region.
He said China had emerged as a major presence in international affairs and a powerful and vital force in the Pacific.
"For the island countries, traditional trade and diplomatic ties with bigger nations remain; some are still strong, some are weakened as strategic interests and priorities change," he said.
"China defines a new and compelling reality, politically and economically," he said.
Qarase said Pacific Island countries wanted to limit or remove their dependency on aid and this could only happen through increased international trade.
"We look now for new markets, where there is flexibility of entry and a readiness to meet the export needs of small, isolated island countries," he said.
"This is what we would like to engage on with China as we increasingly look north for the answers to our trade and investment aspirations."
Wen left Fiji late afternoon for New Zealand where he will spend two nights on his whistlestop tour of the region.